Common by Nature: An evening at Prestwick Carr
Prestwick Carr is, in my opinion, a terribly underappreciated site outside of the winter season: when migrant owls arrive and wildlife-watchers flock to the roadsides in search of their routine avian fix.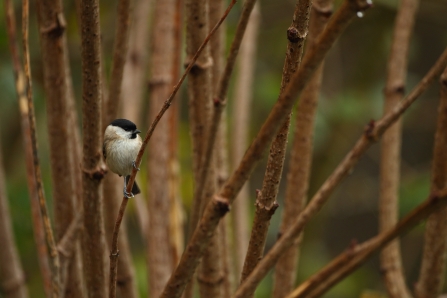 Boasting a locally unique mosaic of wet grassland and bustling hedgerows, this site supports an incredibly wealth of life year-round, and to me, a visit to the carr is equally as rewarding during summer as it is during later months. A view solidified upon my latest visit to the site.
Arriving at Prestwick late in the day, I was delighted to immediately pick-up the harsh notes of a calling willow tit emanating from the roadside scrub. The bird itself, after some ten-minutes of eager scanning, eventually giving itself up and showing well in the branches of a nearby hawthorn. Its sooty, black cap and prominent pale cheeks looking delightful as it hopped about the lower extremities of the shrub in search of food, joined briefly by a second, much paler individual which I can only assume was a juvenile. A real joy to see given the depressing trend in nationwide willow tit population: the species representing one of Britain's fastest declining song birds with fewer than 3,000 pairs now at large in the countryside.
While watching the tits, I was pleased, also, to catch sight of many other interesting passerines: the tangled hedgerow also yielding treecreeper, bullfinch, linnet and long-tailed tit. Interesting species, each and all, but surpassed entirely upon sight of the evenings next highlight – a green woodpecker. The bird in question, seen only briefly as it passed overhead, doubtless on route to one of the surrounding stands of woodland. A common species over much of Britain, green woodpeckers are rather difficult to see in Northumberland; though Prestwick is one of only a select few local sites where this colourful ant-eater can be seen reliably in the area. Our Northumbrian woodpeckers, it would seem, are far less confiding than those that adorn lawns and parkland in Southern England.
Setting up shop by the roadside and placing my scope so to properly view the grassland areas of the carr, the regular species were noted in abundance. Swallows and swifts hawked overhead, a heron stood statuesque in the centre of the field and a curlew dropped in briefly before taking to the wing once again. The blanket of grass and rush before me also affording close views of a hunting kestrel which remained obvious during the duration of my stay – hovering at various points around the field and, occasionally, plummeting downwards and out of sight, doubtless to snag an unsuspecting vole. Indeed, voles should be wary at the Prestwick, between the short-eared owls that arrive in winter and the barn owls, buzzards and kestrels that remain year-round, there are many predators here that would make short work of an unwitting rodent.
Time passed quickly during the remainder of my stay at Prestwick – the next high-point coming upon sight of a small, dark wader with a conspicuous white rump gliding low over the grassland. A green sandpiper: not a species I see much of during my outings in Northumberland, with only a few sightings logged across the county each year. A promising sign of things to come as summer advances and wader passage heats up. As is often the case with this species, soon enough the bird was lost in the dense vegetation and thus, I opted, instead, for a wander back the way I came, adding an all too quick weasel to the list of critters observed during my stay. The walk back, as the light faded, also producing a few bats – most likely pipistrelles - and a roe deer making its way out of cover to feed. A fitting way to end a great few hours at this superb site.
For those looking to visit Prestwick Carr, the site lies only a short walk from Dinnington. A town easily reached by bus using the Arriva 45 service running from Newcastle, or the 44 service operating between Morpeth and Newcastle. It really is worth paying Prestwick a visit, should you find yourself with some spare time. You will not leave disappointed.