Common by Nature: Invertebrate hunting at Newsham Pond
As is often the case for birdwatchers during summer – when rarities are few and far between and excitement is thus limited – my attentions have recently turned towards invertebrates. Specifically, towards butterflies, moths and dragonflies: some of the more colourful creatures to inhabit the countryside that, by summer, are present in abundance.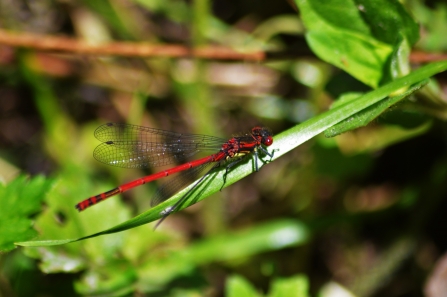 With this in mind, I recently travelled to Newsham Pond, a Northumberland Wildlife Trust site entirely new to me where, armed with only a few pots and my trusty field guide, I set about enjoying a few hours in the company of some truly remarkable minibeasts. All in the glorious summer sunshine.
Starting off at the pond itself – a relatively small one by the standards set by other NWT sites, yet no less rich in life – and it was the abundance of damselflies that immediately struck me. Of these, most were large-red damselflies, ever abundant but still rather beautiful with their alternating bands of crimson and fluorescent green. With these, however, were a smaller number of common blues and, better still, a few blue-tailed damselflies – my first of the year no less, and a real favourite of mine due to their striking, namesake tails. These, coupled with the sight of a number of dapper hoverflies made for an interesting half-hour poking around the vegetated margins of the pool. Though, with regards to the hoverflies, the only species I was able to confidently identify were the many sun hoverflies buzzing contently amid the overhanging greenery. I suspect that I am going to have to do some serious revision on this front.
Moving on into the surrounding scrub and grassy trails, it was the butterflies that quickly ensnared my attention. The variety here, doubtless a result of the pleasant weather, rather remarkable for a site located within an urban area. Here speckled woods sunned themselves on the outstretched leaves of small trees and a few glamorous red admirals chased each other ceaselessly around a ragged patch of nettles – the larval foodplant of this garden favourite. These, however, were not alone and soon other species began to make themselves known. Among these, a single painted lady – a long distance migrant from Southern Europe – delicately marked in contrasting shades of orange and black; alongside the more familiar sight of green-veined whites and small tortoiseshells. The undeniable highlight coming from a delightful comma – its crinkle-cut wings outstretched as it lazed on the footpath, taking flight only as I drew closer. All relatively abundant species, yes; but each exquisite when viewed in such lovely conditions.
Moths too were abundant at Newsham, including no end of small, fast moving silver-ground carpets bursting out of cover in the long grass. A large-yellow underwing was also seen here, doing its best to play dead after I inadvertently scared it from its grassy hideaway while a silver y could be seen buzzing frantically to and fro around the yellow blooms of a dandelion (another summer visitor which, much like the earlier painted lady, migrates to the UK from warmer climes down South). Preceding this encounter, only a few more moths were found: a fresh and vibrant yellow shell and a curious looking clouded border. The latter easily identified by its distinct, Friesian cow patterning. A good haul, truth be told, though for better results, I probably should have visited at dusk. Something I may well make a point of doing in the future.
With my appetite for insect life sated, for now, the final stint of my time by the pond was spent ogling the sites bird life: savouring the repetitive notes of a singing chiffchaff and admiring a few newly fledged blue tits moving as one through the nearby scrub. Indeed, the young of many species were plain to see here as a family party of starlings called noisily from a nearby garden, a young blackbird foraged and, better still, a pair of tatty juvenile song thrush pottered about in search of insects. A joy to see given the perilous state of the species in the wider British countryside.
For those looking to visit Newsham Pond, the site lies on a short walk from Blyth town centre. The town is well connected by local buses from Newcastle, Bedlington, Whitley Bay and other nearby settlements and can be easily reached from almost anywhere in the county. It is worth walking up from the coast at South Beach if, like me, you relish the chance to engross yourself in a wide range of wildlife on your weekend outings. The walk particularly appealing in good weather.