Common by Nature: Spring comes to Holywell
Holywell Pond stands tall as another of Northumberland's hidden gems.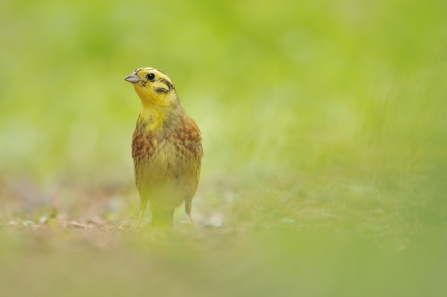 The site itself comprising a welcome amalgamation of habitat types, ranging from mature woodland to quivering reed beds and it's surrounded, on all sides, by areas of quaint grassland and bustling hedgerows. This is a site which is home to many and more intriguing creatures and one well worth a visit, if ever you find the time.
My recent visit to Holywell was an enjoyable one; a short bus journey from my home in Bedlington allowing me to arrive at the reserve just after dawn. My visit was perfectly timed to coincide with the barrage of birdsong that so often greets walkers at this time of year – the fluty notes of song thrush and the whistling of blackbirds audible, immediately, upon arrival. Familiar sounds of spring joined, on this occasion, by a touch of the unfamiliar: by the guttural croaking of a male grey partridge and the song of numerous yellowhammer. Declining bird species, thankfully, seen often at this special site.
Taking a seat in the public hide, the pond too demonstrated perfectly the shifting nature of the current season: with lingering winter wonders – wigeon, teal and pochard - present in abundance yet interspaced, in a pleasing fashion, with myriad springtime sights. Displaying coot – wings raised and feathers ruffled as the males tried their best to win the hearts of stubborn females – and mute swans squabbling in the shallows. The air of amorosity carrying too to the mallards and moorhens, both engaged in similar antics, but also to the rails – calling incessantly from within the depths of the tangled peripheries.
Of course, birds are not the only heralds of the changing season, and today, other sights indicative of spring were starkly apparent too. This included my first red-tailed bumblebee of the year – a queen – buzzing frantically outside the hide, doubtless in search of a new nest site. While wasps could be seen too, fresh from hibernation, and when the sun eventually appeared, a peacock butterfly emerged as if from nowhere, wings splayed and vivid colours alive in the spring sunshine as it soaked up the scant warmth before disappearing, once again. Her presence foreshadowing the joys to come later in the year, in summer, when many and more butterflies descend upon Holywell, spurred on by the warming temperatures.
The remainder of the morning at Holywell continued along a similar vein: the drumming of a great spotted woodpecker resonating from the poolside woodland and a number of charming tree sparrows noted in a nearby hedge - another somewhat scarce species which thrives on NWT reserves. The sparrows, consorting with a mixed flock of finches, watched patiently as I passed, or so I thought. At least until, moments later, a fox emerged briskly from a thicket. Crossing the lakeside field in a blur of red fur; viewed only briefly, as often mammals are, before slinking, once more, from sight. Truly, as I mentioned in my previous most from Northumberlandia, one never knows what fantastic sights may greet them outside; thus, it pays to be vigilant.
My visit to Holywell ended on a botanical note; stopping briefly to admire the bursting buds of hawthorn and the blooms of early coltsfoot – yet more sights associated with the ensuing spring. My mind wandering, as I departed, to the wonders to come as the season moves forward; lingering on the thought of swallows, sedge warblers and blue butterflies. All of which can be readily observed here later in the year.
For those looking to visit Holywell, the nearby town is served by the Cobalt 19 bus service running between Ashington and North Shields, and the 57 service towards Whitley Bay, with Seaton Delaval, a short walk away, also easily accessible by bus.