Common by Nature: Walking at Weetslade
Located no more than a stone's throw from the bustling heart of Newcastle, yet rife with splendid views, vibrant blooms and great wildlife, Weetslade Country Park is somewhat unique on a local scale.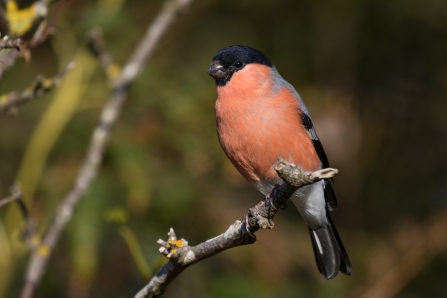 A former colliery site – like so many of Northumberland's most prestigious nature reserves – the park plays host to an eclectic mix of species; the cast of characters on show here more than enough to put a smile on the faces of casual nature lovers and avid naturalists alike. Whether it is wildlife you seek, or simply the chance to roam, the absorbing mix of grassland, scrub, reedbed and woodland habitats that make up Weetslade make for an interesting adventure – the park, as a whole, well worth a visit should you find yourself feeling an urge to explore.
My latest visit to Weetslade started well: with dazzling sunlight, blooming wildflowers and, of course, the incessant song of skylarks beckoning me upon approach. The volume of the latter rising and falling as the larks ascended, wings outstretched and fluttering. Their hovering song flights lasting mere minutes before the birds plummeted again, downwards into the relative cover of the grass where they were quickly lost from sight. Remaining invisible until inspired to sing once more. The intermittent warbling of the larks providing a welcome soundtrack to what was to be an exciting hour in the park.
Wandering westwards, more species soon became apparent. Among these, the commonplace and familiar - linnets, bullfinches, meadow pipits, and rabbits observed as I walked - but also the unexpected and, dare I say, more exciting. The highlight: an elegant male sparrowhawk hunting the peripheries of the field - clear to his purpose as he flew low over the ground, perhaps in the hope of flushing one of the aforementioned larks or pipits. He never did catch anything, however, although a nearby kestrel was more successful. The rufous falcon emerging from a tussock with a lump of brown fur dangling limp from one talon. Lunch.
Onwards, and things continued along a similar vein: first with a pair of grey partridge – a pleasure to see under any circumstance given their recent and worrying decline – flushed from a tangle by a curious spaniel. The plump farmland birds followed, in due course, by sightings of whitethroat, willow warbler, stock dove and yet more linnet – the latter including a particularly obliging male singing its metallic song from atop a stunted hawthorn. The sight of the vocal finch soon followed by that of a rather scruffy fledgling – a clear reminder that spring is well and truly afoot.
The remainder of my time at Weetslade was spent by the western pools; listening to the harsh, yet strangely enjoyable song of a sedge warbler and the hog-like squeals of a water rail - both emanating from amid the sedge. The rail choosing to show itself only briefly, a flash of cryptic feathers all to be seen as the bird dashed momentarily between stands of cover. Thankfully, the sedge warbler was more obliging – showing well as it glowered back at me from the top of hunched reed stem, at least before following the rail out of sight. My thoughts inevitably drifting towards insects and other hidden treasures lurking within the damp area before me. The ensuing fifteen-minute search revealing my first large-red damselfly of the year – a real beauty – alongside the slightly more mundane sight of a green-veined white. Albeit a rather vivid, freshly emerged individual. A nice touch of colour to end a pleasant trip to an underappreciated and under-visited corner of my home county. My only regret being that I did not have more time to explore further: to uncover the other hidden gems surely lurking just out of sight amid the trees, tangles and hidden places that abound within the park.
For those looking to visit Weetslade, the park can be reached on the 45 bus service running between Newcastle Haymarket and Dinnington. Departing the bus at Harrow Gardens; a - minute walk will see you arrive at Weetslade and your adventure begin.