In these times of relative confinement, we are not all lucky enough to have a garden, outdoor space or green area nearby where they can take regular sojourns into relative wildness and nature-space and enjoy a bit of headspace and relaxation which nature naturally affords us.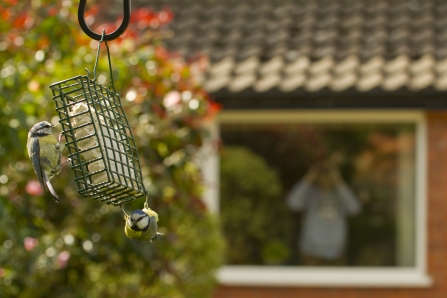 What can anyone do if they are for whatever reason unable to get out far beyond their windows, doorstep or back yard? 
The first thing is to have routine of regularly "looking up" as the Urban Birder David Lindo says. There is always something flying over you of potential interest - things which we all too often miss. In the middle of London's built up area, David has recorded everything from ospreys to cranes, and not the industrial variety! 
From my own back door in semi suburbia, but close to the coast and countryside, I have seen a barn owl fly over, a buzzard, herons, and daily I enjoy the comings and goings of rooks and gulls. These daily observations, I think, instantly reconnect us to the earth and the natural rhythms of life and lighten our loads and our moods.  
Take a breath of fresh air at the doorstep or the backyard and look up and see what happens, the sky, both day and night, is itself a revelation. 
So, look out! Open the windows or just look through them at what is happening that is natural right next to you. If you have a drive or a small front garden, even a window box, it is surprising what there is to see. From insects and birds to even, occasionally, small mammals. 
Many people are recording on trail and web cams hedgehogs, foxes and many species of birds they didn't know existed that live in their street, even next door. Take photos with your phone and share them with family and friends to lift their spirits. 
Another thing anyone can, and many already do to bring wildlife closer, is to feed the birds. Hanging a simple feeder in front of a window or from a wall or trellis, wherever you can, will, in a short time bring birds close enough to draw, photograph or just watch. You can buy them and the bird food from most supermarkets, so if you, or a friend is heading out to do your shopping whilst isolating, why not ask them to bring some back for you? If you don't have a feeder, throw some seeds or nuts onto the ground. 
And don't forget a bowl of water so the birds can have a drink and a bath - dusting down their feathers as the weather is starting to turn warmer. 
This is a great diversion from the hard stuff we are all dealing with now.