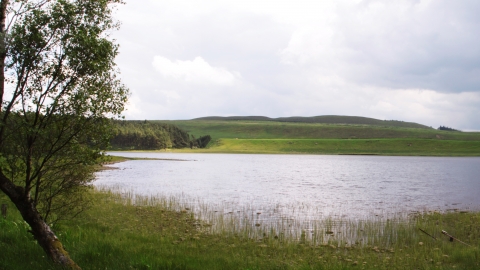 The access and hides at Greenlee Lough are managed by Northumberland National Park Authority. We understand that there are issues with access permissions and as a result the boardwalk route has been closed. We do not recommend visiting at the moment as we are unaware of alternative access.
A large area which comprises an interesting mix of habitats including shallow waters and wetlands providing a haven for wildfowl and wading birds.
Know before you go
Entry fee
No
Parking information
There is a small permissive car park at Gibbs Hill (NY748692) that gives access to the reserve across rough pasture. Parking is also available in the National Park car park at Steel Rigg (NY752676) and it is possible to walk to Gibbs Hill from here.
Walking trails
There are permissive paths leading to the reserve.
From the north, a path crosses very rough terrain to enter the reserve via a long boardwalk and from the east a public footpath across grassland leads to the edge of the reserve, where it becomes narrow and can be very wet.
Access
Two entrances to the site exist, although all are fairly difficult to access. The first is via a permissive path leading south from the public footpath (along a farm track) between Gibbs Hill and Greenlee Farm (NY758699) – the reserve is entered through a single latch gate. The second is via a public footpath from the east leaving the Pennine Way (NY779706) and entering the reserve through a 5-bar gate. The terrain is generally level within the reserve, but very tussocky grass and marshy ground.
When to visit
Opening times
24/7/365
Best time to visit
All year round
About the reserve
This is one of the Roman Wall Loughs and is managed jointly between Northumberland Wildlife Trust and Northumberland National Park Authority. This National Nature Reserve has a bird hide and boardwalk through the reed beds.
The site contains a mix of habitats beyond the open water of the Lough including carr woodland, bog and grassland. There is a good variety of water plants including 11 species of pondweed and stonewort. Around the margins are areas of reed bed with other plants including bog bean and marsh cinquefoil. The Lough is used extensively by wildfowl and waders, that feed in the shallow waters and wetlands.
Contact us
Northumberland Wildlife Trust
Environmental designation
National Nature Reserve (NNR)
Site of Special Scientific Interest (SSSI)