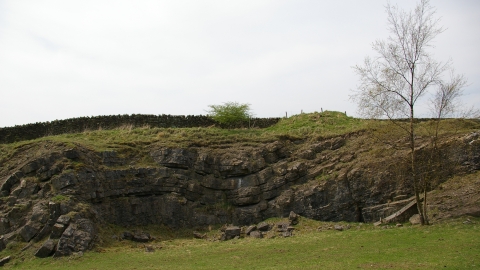 A disused limestone quarry which has developed a rich limestone flora as well as having interesting geological exposures.
Location
Know before you go
Entry fee
No
Parking information
Parking is available on the road verge next to the public footpath or at the nearby kiln.
Grazing animals
Light grazing by sheep during the winter months.
Walking trails
Access on foot is available across the field in front of the farmhouse. Please be aware there are sometimes sheep on the field on approach to the reserve.
Access
Entry to the reserve is via a well-surfaced farm track from the Stanegate Roman Road (OL43 786669) to East Crindledykes Farm. Immediately in front of the farm, a wide 5-bar gate gives access to a meadow, and on the western perimeter, a second 5-bar gate leads into the reserve (OL43 784674). The grass is strimmed in parts to encourage wildflower growth and these areas are reasonably easy to negotiate, with mainly grassy slopes and some steep drops. Please contact the Trust for further information if you have specific access requirements.
When to visit
Opening times
24/7/365
Best time to visit
April to July
About the reserve
The quarry faces are between 3 and 6 metres high and show exposures of the Great Limestone, a band of rock that can be found sweeping around south Northumberland, close to the Whin Sill. A nearby lime kiln processed the rock from here and has been restored by the National Park Authority.
The flora includes autumn gentian, salad burnet, thyme, cowslip, hoary plantain, heath grass and crested hair grass. The vegetation around the southern and eastern margins is tall grassland with a few hawthorn bushes. The grass is cut and removed once per year and is occasionally lightly grazed over the winter. The quarry, including the larger area to the west, was used for landfill of colliery waste. The waste in the Trust reserve was partially removed but that to the west still remains.
Habitat
Contact us
Northumberland Wildlife Trust
Environmental designation
Site of Special Scientific Interest (SSSI)