Amazing cash boost for East Chevington reserve
Amongst the dark days of Coronavirus, Northumberland Wildlife Trust received news of an amazing cash boost for its Catch My Drift project at East Chevington.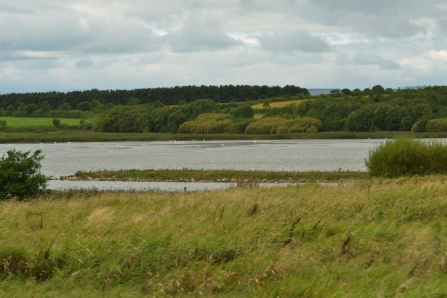 Thanks to National Lottery players, The National Lottery Heritage Lottery Fund has awarded the project, based at Druridge Bay, a grant of £415,800 for the second phase of its project and gave staff a million reasons to cheer.
The project, aptly titled 'Catch my Drift' is a nod to the reserve's history as it was once the East Chevington Drift Mine (1882 - 1962) and East Chevington Opencast Coal Site from 1982 - 1994.
The 185-hectare site passed to Northumberland Wildlife Trust in 2003 and now contains lakes, ponds, reed beds, woodland, pasture and arable farming that are homes to nationally significant species such as marsh harrier, red squirrels and great crested news. It is also important to the local communities who use the site as an area for walking and access to the beach and it is estimated (in its current state) 10,000 visitors go onto the site each year.
During the development phase of the project between April 2019 and March 2020, the Catch My Drift team worked with consultants to determine solutions to the problems it had on site and appointed a Catch My Drift Project Assistant to liaise with local community groups and share ideas with the public. People were able to feedback and suggest amendments. Fifty-seven volunteers supported the development phase, completing 1331 hours of wildlife surveys during which they recorded 438 species, with 276 new records.
The second phase of the project, taking place over three years, will protect and revive threatened habitats and providing refuge for different species on the Druridge Bay site. It will also make access improvements to give everyone the opportunity to experience nature.
The team, led by Sophie Webster, Catch My Drift Project Officer and Anthony Johnston, Reserves Officer (Druridge Bay) will continue to carry out improvements for wildlife with volunteers, plus run a variety of events and activities on natural heritage to increase people's understanding of its importance
The water management measures put in place at the end of opencast restoration are no longer functional making it difficult to have any positive management effect on the established reedbed. The project will introduce new structures to enable water levels to be controlled allowing better management of the existing 16ha of reedbed and re-profiling of the lake edges to create a mixture of reed, ditches and pools.
Marsh harrier first bred on the site in 2009 and have returned annually. Loss of this established breeding site would be significant. We need to change the water management structures now to be able to control water levels and get in and cut the reeds to open up the sward and maintain the habitat. If we do not then the area will continue to develop into scrub and woodland.
The project team also discovered breeding bearded tit and cetti's warbler in 2019, plus evidence of harvest mice, which would all be lost if habitats disappeared.
Improvement works will continue by creating 20ha of new meadows on the site, which will create a haven for pollinating species and help to reverse the declining trend. They are essential for many crops and wild plants as pollination increases their yields and survival. Birds and small mammals eat seeds, fruits and berries from plants that are pollinated by insects so a decline in these species has a knock-on effect higher up the food chain.
The new grazing regimes introduced on the 10ha of the site's pasture will continue to be implement and monitored throughout the project as will the 8ha of semi-improved grasslands within the site that were untouched by coal mining activity.
There is over 30ha of plantation woodland on the site with a large percentage of conifers, the team will carry out thinning in 5 hectares of plantation, to allow woodland floor species to develop and increase native broadleaved species.
Public consultation work in the development phase of the project fed directly into the Trust's delivery plans for phase two and as a result, the site will see major improvements to tracks and paths on the site to give more people the opportunity to experience nature.
Once on site, they will be able to find out more about the area from information panels before heading off to watch wildlife from the four newly improved existing hides. It is estimated that 30,000 visitors will be able to learn about heritage and activities.
Speaking about the award of the £415,800 grant, Elaine More, Northumberland Wildlife Trust's Development Manager said: "I am delighted that the hard work of the Catch My Drift Team from the development phase has been successful. I am also overwhelmed by the support from volunteers and members of the public in helping to shape what the project should do, and how we address some of the issues that we face.
"Covid 19 has demonstrated how important the natural environment is for people and their need to take time out with nature. Our work at East Chevington will ensure that local residents and visitors have a reserve full of wildlife all year round where they can switch off, relax and reflect."
There are opportunities for people to volunteer with all aspects of the project, anybody wishing to get involved whether it is volunteering or wanting to have an input into how the project is developed can contact catchmydrift@northwt.org.uk.