Cash boost for dynamic new project
Northumberland Wildlife Trust's dynamic new people engagement project has received support from National Lottery players via an £85,000 grant from The National Lottery Heritage Fund's Resilient Heritage programme.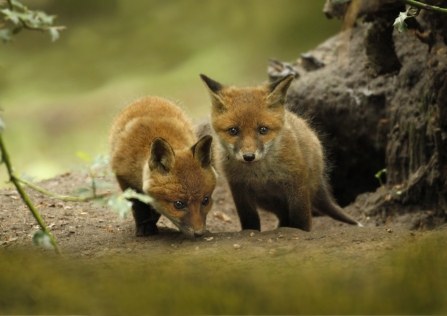 Designed to strengthen organisations and build the capacity of staff and volunteers to better manage heritage in the long-term, the programme's funding has been awarded to the wildlife charity's brand news 2020 Vision Project which is dedicated to creating greater public awareness of the serious state of nature and fostering a grassroots movement to act for wildlife, via community initiatives and large-scale events.
Most topical, the funding will enable the 2020 Team to respond to new challenges in nature conservation and changes in environmental protection when the UK leaves the European Union.
Northumberland Wildlife Trust focusses on all the species and habitats, and the wider landscape in Northumberland, North Tyneside and Newcastle including the Northumbrian Coast and North Sea, the uplands of the Cheviots, remote moorland, woodland and bogs of Kielder, The Border Mires and the Cumbrian and Scottish Borders, the urban industrial towns of South East Northumberland, and the Newcastle cityscape.
Particularly exciting, the funding will allow the wildlife charity to appoint a full time Community and Donor Relations Assistant who will be actively responsible for recruiting and supervising new volunteers into brand new roles including community ambassadors, volunteers with specialist skills and social media supporters. 
The newly appointed person will also be involved in assisting in organising supporter events and trialling news sources of fundraising - none of which would have been possible had it not been for the support of National Lottery players and the £85,000 grant.
Nature is under threat from human impacts on the environment, climate change, housing and industrial development, pollution and intensive agriculture and fishing. According to The State of Nature Report (2016): "Between 1970 and 2013, 56% of UK species declined…15% are threatened with extinction. This suggests we are among the most nature-depleted countries in the world."
There are pockets of beauty in the UK, but Northumberland is as depleted as anywhere else is, and the current situation is far from the rich picture of pre-1940s diversity: meadows and grasslands are 98% gone and the county has little remaining native woodland.
In Newcastle and North Tyneside, the demand for housing and industry has caused urban sprawl with green space reduced to green corridors.
Speaking about the new project, Sheila Sharp, Head of Marketing and Fundraising says: "It is time for a new approach to give wildlife a chance to recover and adapt to pressures. There are vast areas where habitats remain fragmented with wildlife forced into fewer and smaller pockets, surrounded by urban development or intensive agriculture.
"There is an urgent need for fundamental change which can only happen with significant support from the public. The grant from The National Lottery Heritage Fund is so invaluable to us as it will enable us to work with local communities to restore our natural landscapes - without this we risk losing many of our iconic species and the natural habitats upon which they (and we) depend."
For details on how people can get involved, contact the 2020 Project Team on: (0191) 284 6884.