Cash will boost hearts and minds in the region
Northumberland Wildlife Trust's project aimed at getting young people along to nature reserves has received a major cash boost from two charitable trusts in the region.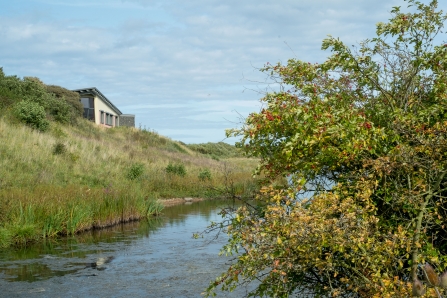 Now, thanks to £5,000 from the Sir James Knott Trust and £10,000 from the Wellesley Trust Fund at the Community Foundation, the wildlife charity's dream to pilot an education programme for local and regional first and middle schools is now set to become a reality.
Using the funding, the Trust will develop and pilot a new hands-on environmental learning programme at its new award winning Hauxley Wildlife Discovery Centre for 300 children aged between 8 - 12 years of age.
The Wild Hearts & Minds project will bring nature to life for the children, many of whom will be from urban schools. It will run from summer 2018 - March 2019.
Five educational workshops focussing on: landscapes and climate change, marine and coastal habitats, bird identification, sustainable living and nature in everyday life will develop the children's knowledge and skills that link to the national curriculum, but equally as important, they will help shape their attitudes for the future on the importance of making nature part of their lives.
In addition, specific support from the Wellesley Trust Fund will enable the wildlife charity to appoint an officer to develop, deliver and measure the project's outcomes as well as providing coaching for schools to help them find funding to add these special workshops to their activity plans.
Research by Natural England suggest that only one in five children play outside compared to seven out of ten from their parents' generation with sedentary and 'virtual' lifestyles becoming increasingly linked to ill-health including obesity, stress and diabetes.
Speaking about the cash boost, Sheila Sharp, Head of Marketing and Fundraising at Northumberland Wildlife Trust said: "Without a sustainable natural environment, our economy, health, wellbeing and happiness will suffer, and, at a time when 37% of children have never seen a hedgehog, this funding could not have come at a more important time.
I am sure once the children set foot in the new Hauxley Wildlife Discovery Centre they will experience the type of wonder which cannot be matched by a television screen or mobile phone."
Jon Goodwin, Senior Philanthropy Advisor at the Community Foundation added: "The Wellesley Trust Fund is all about making a difference to the lives of young people and this grant will enable a huge number of children, who may for various reasons be unlikely to visit Hauxley, to do so.
The quality of the natural environment in our region is outstanding, and we believe we need to do more to make the most of its potential as a recreational resource for the region's people, not least for the mental and physical health benefits it provides. Grants like this help us to do just that."