Dive into National Marine Week with wildlife charity
Watch whales, swim a snorkel safari and ramble those rock pools this summer!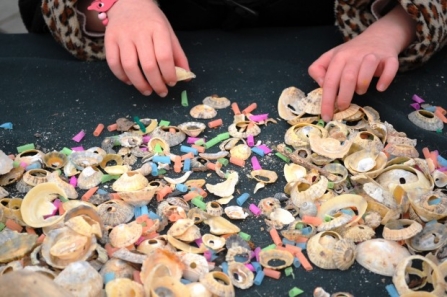 Make the most of the coast with The Wildlife Trusts and spot shoreline treasures and ocean giants this National Marine Week.  
The celebration runs from 27July to 11August 2019 - a fortnight to take advantage of the tides - and showcases wonderful seaside wildlife around the UK.
You don't have to be near the coast to celebrate in this region as Northumberland Wildlife Trust is running two marine themed events for children at Northumberlandia on Tuesday 30th and Wednesday 31st July.
On Tuesday 30th from 10:00am - 2:00pm, children aged between 5 to 12 can call into the Cramlington reserve and enjoy a self-led marine trail, answering questions along the way.  There is a charge of £3.00 per child, which includes a prize at the end.
The following day, Wednesday 31st from 10:00am - 12:00 noon, the Trust is hosting a morning of marine themed crafts – again, all under the watchful eye of The Lady of the North.  Priced at £5.00, children aged between 5 to 12 will be able to make 3D marine scenes, 3D stained glass fish, paint plaster cast marine animals and head off on the marine themed trail around the reserve.
Duncan Hutt, Northumberland Wildlife Trust's Head of Conservation and Living Landscapes, says: "In the UK we are never more than 70 miles from the sea and every summer, millions of people are drawn to the coast.
"Northumberland has a diverse natural landscape existing beneath the waves off our coast landscapes including seagrass meadows and soft corals, not to mention the wonderful dolphins which appear each year, much to the delight of local residents and visitors."
Anybody with a love for the North Sea coastline can volunteer with the 'Coast Care' initiative which works to protect  the area from Amble in the south, to Berwick in the north, stretching west as far as Lowick, Belford and Alnwick. Based at Seahouses.
To find out more visit www.coast-care.co.uk
Follow #NationalMarineWeek on Twitter and Instagram!