Don't forget wildlife as weather turns colder
As temperatures drop and winter approaches, Northumberland Wildlife Trust is issuing its annual plea to members of the public to help look after the wildlife in their area.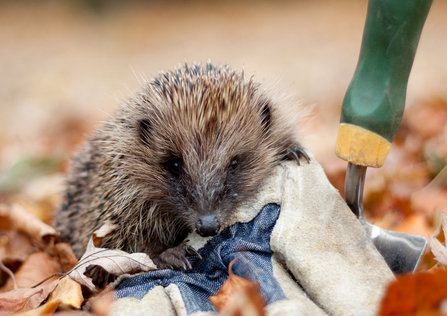 Bowls of everyday items found in kitchen cupboards such as suet, peanuts, seeds, apples and dried fruit, plus bowls of fresh water, will really help many birds and small mammals survive the winter. 
In addition, there's good news for people who can't face gardening in the cold as the Trust offers great excuses to sit back and do nothing until spring.
During the colder months, an outdoor space such as a garden or back yard can be a safe haven for birds, insects and hedgehogs.
One of the best ways to offer shelter is to create habitats in the sunniest, most sheltered spot. A stack of bricks and pots will provide a home for toads, newts while sticks and logs are great for hedgehogs and insects.
Bees in particular love wood with lots of little hidey-holes, left in a sunny place and, rotting wood is a valuable part of the ecosystem, and if you leave it, it could become home to beetles, centipedes, spiders and fungi.
Another tip to help wildlife through colder months is to leave gardens undisturbed until the spring. Uncut grass is a perfect for frogs and mice and leaves piled up are full of nutrients and great for hedgehogs, worms, mini-beasts, frogs and toads. Old flower stems in flowerbeds and pots provide much needed food.
The Trust also urges people to go easy with the clippers and not cut back hedges when they are producing berries, as they are a valuable food source for birds and mammals, when there is nothing else around for them to eat.
Likewise, ivy is important for bees and butterflies as it flowers in the autumn and becomes a valuable source of nectar before they go into hibernation. It also offers a safe hideaway for small mammals.
Even the corners of a dusty shed may have butterflies overwintering in them, or a sunny wall may be harbouring bees or ladybirds
Geoff Dobbins, Senior Estates Officer at Northumberland Wildlife Trust says: "Gardens are a vital source of shelter and food for wildlife, especially in winter when many species need warm, dry spaces to bed down in.
"When you are out in your garden, please bear in mind how holding back on some projects until spring can really make a difference and, you never know, you may be rewarded with visits from some wonderful species."