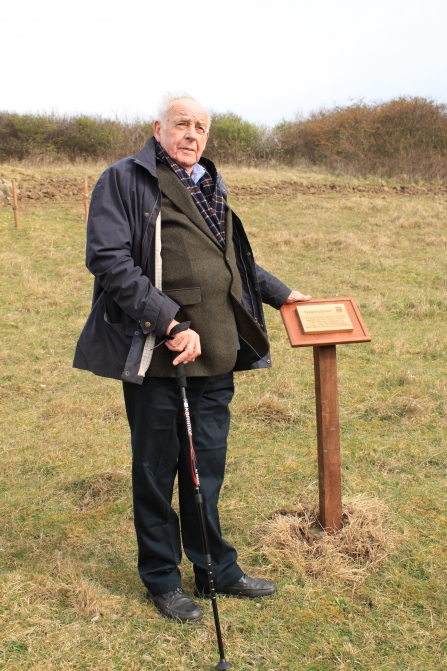 Tony was one of the conservation pioneers of the 1960s and close associate of the founders of the modern wildlife trust movement. He was a passionate promoter of wildlife conservation long before it was fashionable.
As a professional museum curator at the Hancock Museum of Natural History in Newcastle (now the Great North Museum: Hancock) from 1958, Tony was in a particularly strong position to promote public awareness of the need for nature conservation.
Tony took up the challenge with widely acknowledged flair and originality and was among the first to introduce the concept of nature trails to Britain on behalf of the National Park, beginning with a National Nature Week series in 1963. He continued to conceive and write new trails for several years after that, sponsored by Shell and finally, in co-operation with the Northumberland National Park, up to 1984, on whose committee he served for 13 years.
In 1962, he established the Northumberland & Durham Naturalists' Trust with fellow naturalist Angust Lunn and, in 1971, he formed Northumberland Wildlife Trust. He was closely involved in the development of the Trust until 2000, when he retired as Honorary Secretary. He remained involved as Vice President until his death.
Tony held a key role in establishing Trust nature reserves and conservation across the north east of England and nationally had close links with national conservation leaders such as Ted Smith and Sir David Attenborough.
Among his many achievements in establishing nature reserves in his adopted county of Northumberland (he was a Yorskhireman by birth), the coastal wetland complex along Druridge Bay perhaps best illustrates his exceptional ability as a leader in created wetland conservation.
Many of the wetlands are contained within a British Coal opencast restoration scheme and are largely the result of his innovative thinking and persuasive ability when it would have been much easier and cheaper for British Coal to restore the land to agricultural use.
The outstanding wetland sites (known to birdwatchers all over Britain) have developed over more than 30 years, those negotiations are a tribute to Tony's foresight and drive at a time when wildlife conservation did not enjoy the high profile it has today.
His work in Druridge Bay resulted in this Trust becoming a national leader in creative wetland conservation: well-illustrated by the prize winning wetland garden at the 1990 National Garden Festival in Gateshead. The new Wildlife Discovery Centre on the Trust's Hauxley reserve, which he helped open last year, is a lasting legacy to his work and The Tynan Education Room is named after him.
Tony was closely involved in the negotiations relating to many of the Trust's reserves that often required him to display his formidable powers of persuasion and dogged tenacity.
Angus Lunn, Vice President of Northumberland Wildlife Trust and Co-Founder of the wildlife charity said: "Northumberland Wildlife Trust is very much Tony's creation and for that, alone he will always be remembered. It would be difficult to find anyone with more demonstrable dedication to nature conservation than Tony, he was a truly remarkable character, the like of which we will struggle to see again."
In addition to his nature reserve work with the Trust he assisted the Natural History Society of Northumbria manage the Gosforth Park Nature Reserve and SSSI in the suburbs of Newcastle-upon-Tyne into the 1980s until the Society was able to put in place its own management structure.
As a writer of a regular article on nature conservation topics for the local evening newspaper, he reached a wide regional audience, but expanded this further with regular contributions to radio and television in the northeast. In particular, he appeared as a regular contributor on BBC North East's long running natural history programme "Looks Natural" and its successor "North Country" all of which helped to raise the profile of Northumberland Wildlife Trust. In his inimitable style, he opened up the natural world to tens of thousands of people.
Not content with all this, and much more besides, on moving house to the old colliery village of Clara Vale in the Tyne Valley, he tutored and enthused the villagers into creating and managing yet another nature reserve, this time in the old colliery yard.
One small anecdote among very many about Tony serves to illustrate how his influence lives on in deed and humour; in the 1980's, when golden eagles were still nesting in the Kielder area they were talked about in code to keep them a secret and protected so they were referred to as 'Tynan's Budgies.' This story is still told in birding circles.
Angus Lunn, Vice President of Northumberland wildlife Trust said: "Northumberland Wildlife Trust is very much Tony's creation and for that, alone he will always be remembered. It would be difficult to find anyone with more demonstrable dedication to nature conservation than Tony, he was a truly remarkable character, the like of which we will struggle to see again." 
Sandra King, Chair of Northumberland Wildlife Trust said: "Tony Tynan was a legend in Northumberland Wildlife Trust and in the Wildlife Trust movement as a whole, one of the last in a generation of pioneer conservationists who helped establish county Trusts to protect nature. His work on developing nature reserves and trails to get people closer to nature continues to be the backbone of our approach today and right up to the end he was involved in, and appreciative of, our joined up vision for living landscapes.
It was great to see him last year at the opening of Hauxley Wildlife Discovery Centre which he saw as the culmination of much of what he strived to achieve for people and wildlife. He was a wonderful character who we will miss very much but whose legacy is guaranteed going forward."
Mike Pratt, Northumberland Wildlife Trust Chief Executive said: "Tony was a one off, his energy and focus were amazing as evidenced by his remarkable achievements in conservation over a lifetime. He was a visionary and he helped me and the Trust continue to achieve lasting change for wildlife and raise awareness about conservation throughout the last ten years as well as earlier in his career. He was persuasive and passionate about the value of nature and we would not have many of our best nature reserves without his efforts.
Tony was a big thinker and a man of action, he got things done, but he was also a very amusing and lively person to be around, a true leader and someone we are all very proud in the Trust to be associated with and who we will miss. In everything we did in developing his vision we wanted to impress and delight him and hopefully, most of the time, we did."