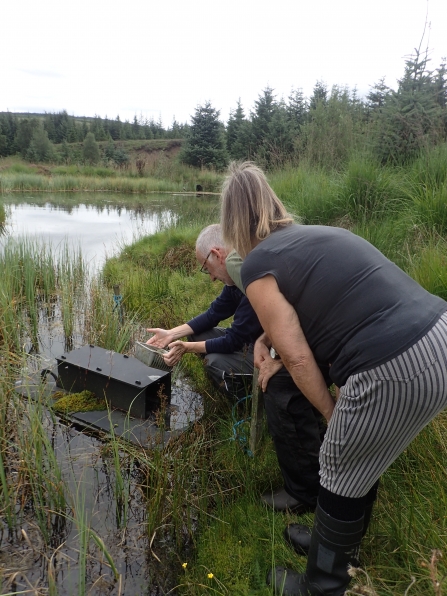 Last year alone, 405 water voles have been released into the Kielder area, taking the total released from June 2017 to 965.
The released voles have been bred in captivity from individuals captured in the Pennines and North Yorkshire in 2017 and over the border in Scotland in 2016.
This release, the fourth since the project started, was supported by Northumbrian Water's 'Branch Out' Fund and staff from Kielder Water & Forest Park who were able to see and handle the water voles in their holding pens prior to release.
Gary Storey, General Manager of Kielder Waterside who released his first water vole said: "This was a great experience to get involved with and our staff thoroughly enjoyed seeing this rare animal up close, personally it is the first time I've seen a water vole and the fact visitors to the area have the opportunity to look for these wonderful creatures is fantastic.
It's great that we've been able to support this project through our Branch Out scheme, which has awarded over £300,000 in funding for projects which benefit the natural environment, wildlife and local communities since 2013."
All signs indicate that water voles released in June and August 2017 are thriving well with many of them travelling up to 12km from their release sites, with potentially breeding voles being found around 5km from their original release sites. A further 260 voles are set to be released in August.
'Restoring Ratty' is a five-year partnership project between Kielder Water & Forest Park, Northumberland Wildlife Trust, Forestry Commission England and Tyne Rivers Trust, aimed at the reintroduction of water voles to the Kielder Water and Forest Park area of Northumberland. It has all been made possible by National Lottery players through a grant of £421,000 from the National Lottery Heritage Fund.
The water vole was once a common and familiar mammal along our ditches, rivers and streams. Unfortunately, habitat declines, pollution of waterways, industrialisation of agriculture, housing development and predation by American mink that escaped from fur farms, have all led to severe water vole declines since the 1960s.