Get bioblitzed at Benshaw
Northumberland Wildlife Trust is inviting nature lovers to kick-start their September by taking part in a bioblitz on its Benshaw Moor reserve near Elsdon, on Saturday 4th September, between 9:00am - 6:00pm.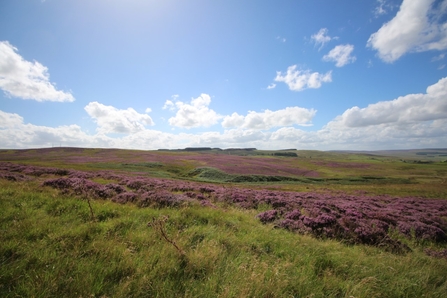 The event has been made possible thanks to funding from the Environmental Records Information centre (ERIC) and Northumbrian Water's Branch Out scheme.
The wildlife charity is hoping as many people as possible lend a hand to help its conservation team find and record as many species of plants, animals and fungi that call its second newest reserve home. The results from the day will be used to help the team to plan how the site it managed in the future.
Everybody is welcome to stay all day or drop in and out at any time.
In addition to recording species, the bioblitz will include guided sessions on how to find an identify plants, fungi, moss and lichens, reptiles and small mammals from Trust staff, the North East Fungus Study Group (NEFSG) and the Environment Records Information Centre North East (ERIC). 
The day will end with a talk about the Benshaw reserve and the surrounding area at 7:00pm in Elsdon Village Hall.
Anybody interested in any aspect of the event can find out more at: www.nwt.org.uk/events/2021-09-04-benshaw-bioblitz-2021
There will also be the opportunity for people to take part in stream kick sapling at the waterfall on the reserve courtesy of the Tyne Rivers Trust.
Alice McCourt, Northumberland Wildlife Trust conservation officer says: "What a great way to end the summer holidays before everybody goes back to work, school or college.  Benshaw is a wonderful reserve in a beautiful part of Northumberland and well worth a visit.  So what are you waiting for? Come and join us."
The 600-acre Benshaw Moor reserve in Redesdale is all about big skies and magnificent vistas; there are burns, springs and even a limestone-stepped waterfall. It is home to otters, dragonflies, butterflies and adders.  Curlews, skylark and meadow pipit nest and visitors to the site can catch a glimpse of short-eared owls as they hunt over the moorland. 
The abundance of plants found on the moor is stunning and include bogbean, butterwort, limestone-bedstraw, grass of Parnassus, and bog species such as cranberry, sphagnum mosses and round-leaved sundew.
The wildlife charity purchased the site in spring 2019 following public appeal, a considerable amount of money from charitable trusts, businesses, private donations and a bequest by the late George Swan, emeritus professor of organic chemistry at Newcastle University, who specified it had to be used in buying a site of botanical importance.