Get Christmas crafty with Coast Care
'Coast Care', the coastal initiative based in Seahouses is getting festive with a winter wreath workshop with gardener and artist Anna Corbett, who experiments with many types of materials to create items to mark and celebrate the seasons and the natural world.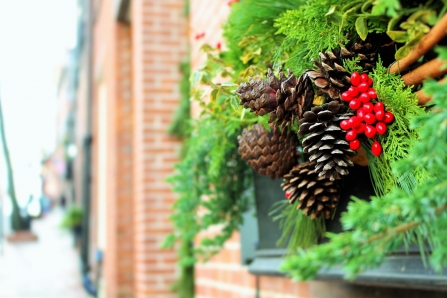 The event, guaranteed to get anybody in a festive mood, is being held at the Seahouses Hub on Stone Close in Seahouses on Sunday 8 December, between 10:00am - 1:00pm.
There's a long tradition of bringing greenery into houses to celebrate winter at the darkest time of the year and during this workshop, crafty people will be able to make a decorative wreath with natural materials gathered from woods, gardens and hedgerows.
Using willow as a base, wreath makers will use cones, rushes, grasses combined with berries, leaves, seashells, stones and feathers to create their own festive talking point.
Festive refreshments, treats, tools and materials will be provided.  To book a place visit: https://www.nwt.org.uk/events/2019-12-08-winter-wreath-workshop
Priced at £30, all profit from the event will be used to help Coast Care deliver future activities.
The event is part of the 'Coast Care' initiative, which works for the conservation of the coastal landscape from Amble in the south, to Berwick in the north, stretching west as far as Lowick, Belford and Alnwick.