Get a wriggle on this half-term
Northumberland Wildlife Trust's Catch My Drift project team is celebrating the wonderful world of worms this half term.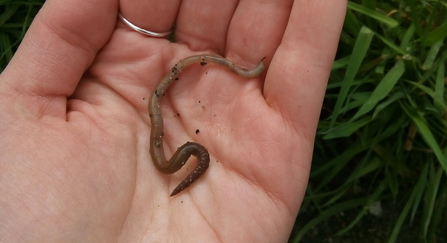 On Wednesday 27 October, between 10:00am - 11:00am, nature lovers of all ages are invited to head to the wildlife charity's East Chevington reserve at Druridge Bay to[FD1]  get their hands muddy and find out how worms help to make their green spaces flourish.
In addition, there will be the opportunity to make a wormery to take home.  Places are limited so need to be booked by visitng www.nwt.org.uk/events
Joel Ireland, Catch My Drift project trainee says: "The lowly worm is essential to nature. It spends its life beneath our feet - turning the soil, allowing it to breathe, recycling and enriching it. In addition, worms are vital food for toads, birds, beetles, shrews and badgers and others animals.
"The UK has 29 different species of worm and most astonishingly, a worm can eat its own weight in soil in one day. There'll be plenty more facts like that wriggling around at our event, so why not do something a bit different and come and join us?"