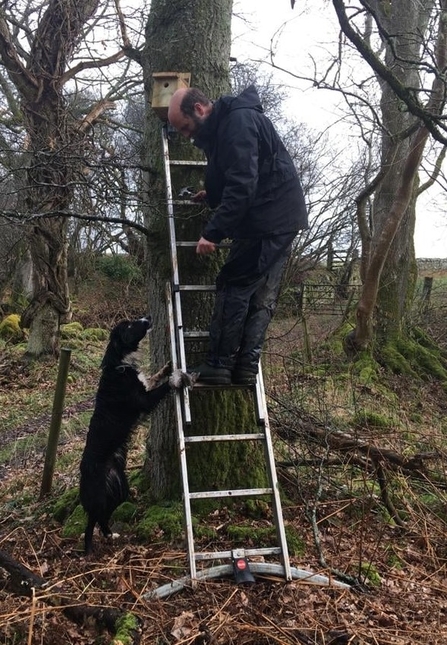 A grant of £100 from Haydon Bridge Parish Council has enabled the Trust to build and install 10 new bird boxes on its Tony's Patch, 2km north-west of Haydon Bridge.
Tony's Patch is home to ash and oak trees with smaller trees such as willow and hazel offering plenty of places to attach them and is home to populations of greater-spotted woodpeckers, blue tits, great tits, chaffinches, robins and breeding tawny owls, all of whom will now be chirping for joy in their new homes.
Meanwhile, up the Allen Valley at the Trust's Briarwood Banks reserve, 5km south-east of Bardon Mill, support from the players of People's Postcode Lottery has enabled the wildlife charity to install bird boxes around the semi-ancient natural woodland site which has healthy population of birds including pied flycatchers and redstarts
Without its group of conservation volunteers to help with the building of the bird boxes, it was very much a race against time for the Trust's estates team to build and install the boxes before the start of the spring bird breeding season. The team will return to the two reserves later in the year to monitor the boxes and their usage.
Speaking about the support, Duncan Hoyle, Northumberland Wildlife Trust Estates Officer said: "The support from Haydon Bridge Parish Council and players of People's Postcode Lottery is wonderful and couldn't have come at a better time as we were trying to work out how to fund the installation of a number of bird boxes which were needed in the area.
"Both reserves are well worth a visit once lockdown is over and, if you look carefully, you may catch a glimpse of a bird or two using the new nest boxes which will be guaranteed to raise a smile. But, should you have your dog with you, please keep it on a lead to minimise disturbance to the breeding birds."