Here's looking at you red!
It is very rare that the red squirrels on Northumberland Wildlife Trust's Hauxley nature reserve wander too far from their feeding stations situated next to the car park.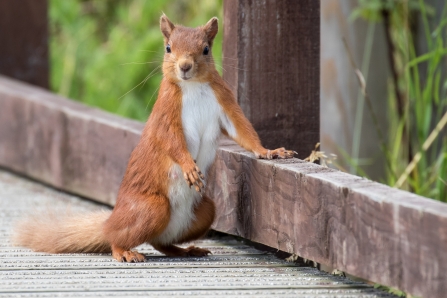 So imagine the delight of Trust volunteer Tim Mason when he spotted one of the bushy tailed wonders using the bridge by the Ponteland Hide, around the back of the reserve by the sand dunes, and 1km away from its usual 'stomping ground.'
Tim said: "The red squirrels normally scamper up and down the trees much to the delight of visitors to the reserve, so you can imagine my joy when I spotted this one at the other side of the reserve. Mind you I don't know who was more surprised - me or the squirrel."
So far this year, the new Wildlife Discovery Centre has scooped major design awards, appeared on BBC Countryfile, been filmed for a potential programme on CBeebies to be aired next year and attracted in excess of 45,000 visitors.