Project brings in the Hexham experts
It takes more than a pandemic and lockdowns to stop Northumberland Wildlife Trust's Kielderhead Wildwood team planting trees at Scaup Burn on the northern edge of Kielder Forest as part of the project.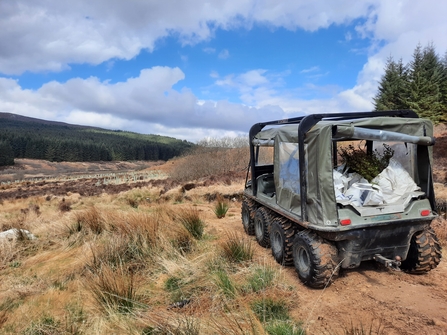 With zero tree planting taking place during last year's planting season due to travel restrictions and a reduced number of volunteers, the project team had 4,000 silver birch trees that needed to be planted as part of a diverse species mix to create a new upland pine woodland
The trees needed to be planted by the end June when the ground is at its most favourable, plus, they were to be planted on the higher altitudes of the Wildwood site where access is harder for the volunteers.
With time being of the essence, the team called in Andy Gray from Hexham based Juniper Forestry and Environmental Services Ltd.
They specialists in tree planting and forestry work have worked with the project team before and know the difficulties of the site.  They were able to complete the work in six days, much to the relief of the Wildwood team.
However, the work doesn't stop there. The team had an additional 1,800 silver birch trees to be planted over the course of the spring and summer so  has enlisted the help of college students, Northumberland Wildlife Trust volunteers and volunteers from a local company.
Anybody wanting to know more about the project or wishing to get involved should email Graham Holyoak, Kielder Wildwood Project Coordinator at graham.holyoak@northwt.org.uk
The five year Kielderhead Wildwood project is managed by Northumberland Wildlife Trust and Forestry England and has been made possible thanks to National Lottery players via a grant from The National Lottery Heritage Fund.  It is working towards establishing a low density, native upland woodland on 95 hectares of open moorland along Scaup Burn at Kielderhead.