£8 million raised for the Wildlife Trusts' nature recovery plans
Ten new projects contribute to 30% of land for nature by 2030 as Sir David Attenborough backs new phase of 30 by 30 campaign.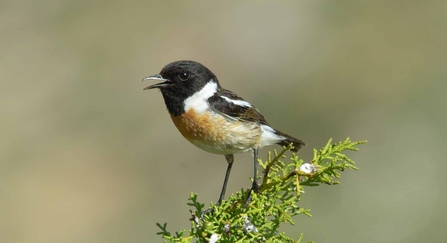 The Wildlife Trusts have raised almost £8 million just six months after launching their 30 by 30 ambition to kick-start nature's recovery across 30% of land by 2030. Funds will buy land to provide new homes for wildlife and allow nature to thrive in increasing abundance across wilder, joined-up places. The plan is to reverse decades of steep wildlife declines and threats to the natural world.
Today The Wildlife Trusts unveil ten new projects which are contributing to the drive to help nature fight back – including converting an ex-golf course into an urban oasis for bees and butterflies, turning degraded arable land into heathland, securing a future for historic wildflower meadows and rewilding a village.
Sir David Attenborough and members of the public are backing the call for 30 by 30 – The Wildlife Trusts have been humbled by the way in which the crusade has caught the popular imagination. People want change.
Sir David Attenborough, President Emeritus of The Wildlife Trusts, says:
"If given a chance - nature is capable of extraordinary recovery. The Wildlife Trusts' campaign to secure 30 per cent of our land and sea for nature's recovery by 2030 offers us the vision and level of ambition that is urgently needed to reverse the loss of nature, and so improve all our lives.
"We are facing a global extinction crisis which has implications for every one of us. It's tempting to assume that the loss of wildlife and wild places is a problem that's happening on the other side of the world. The truth is that the UK is one of the most nature depleted countries on the planet and the situation is getting worse."
The Wildlife Trusts' new schemes are additions to a growing list of nature recovery projects that will put new land aside for nature as well as repair and link-up existing, fragmented, wild areas to enable wildlife to move around - some of these are still fundraising. The aim is to bring nature everywhere including to the places where people live.
In this region, one of the new schemes includes breathing life into 20 urban nature areas to benefit people and wildlife across the Tyne & Wear area.
The call has inspired ordinary people to support individual Wildlife Trusts and of the £8 million total raised so far, over £900,000 has been given by members of the public.
When Craig Bennett became chief executive of The Wildlife Trusts exactly a year ago, his pledge was to "get our nature back." Since then, he has launched the 30 by 30 ambition and pioneered the concept of Wildbelt, a new designation to protect land in recovery for nature.
Craig Bennett, chief executive of The Wildlife Trusts says:
"The alarming decline in the abundance of wildlife and the plight of species under threat means we need to act more quickly than ever before. Just protecting the nature we have left is not enough; we need to put nature into recovery, and to do so at scale and with urgency. We need to transform nature-poor areas into new nature-rich places - and change the way we think about land, looking for opportunities to help nature outside traditional nature reserves.
"We've been inspired and humbled by the level of public support for our vision. The restrictions imposed by the pandemic have shown how much people need nature to be present where they live and work and not just in far-off places for visiting on special occasions. Making space for local nature is more vital than ever."
The Wildlife Trusts' 30 by 30 appeal is asking people, communities and businesses to donate at www.wildlifetrusts.org/30-30-30.