Rediscovering wildness the virtual way
This September, members of the public can take part in an exciting conference about the wilds of Kielder - without so much as leaving their seat.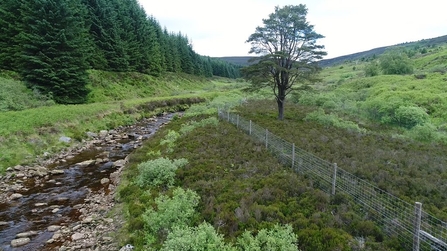 On Wednesday 9 September, between 9:30 - 11:00am, the Kielderhead Wildwood project will be hosting its first Wildwood conference, which will run as a mini-digital showcase of what the project intends to include in its full three-day conference next May (2021).
When the conference was first suggested at the start of the year, little did organisers expect it to be a live virtual conference comprising films, presentations and chat via Northumberland Wildlife Trust's YouTube channel.
It takes more than a pandemic and lockdown to stop the project team and, over the course of 90 minutes, virtual delegates will find out more about how the Kielderhad Wildwood project is creating a native upland pine woodland above Kielder Forest.
They will also hear more about how the historically significant Scots Pine is fairing in the area as well as how 'wilding' is reflected in ecology and influences culture, history and the arts.
With speakers including conservationists from Northumberland and Cumbria as well as academics from scientific, historical and artistic disciplines, it really is a wonderful event not to be missed. And, better still, as it's on YouTube, virtual delegates can re-watch their favourite bits over and over again.
Speaking about the conference, Mike Pratt, Northumberland Wildlife Trust Chief Executive and conference chair says: "This is a fabulous opportunity and a positive, creative response to the impact of COVID -19 on our learning and sharing experiences of the natural world.
"Fingers crossed, next year It will be amazing to re-visit sites, plant trees and witness the growing grandeur of the Wildwood itself, but until then, this is the next best thing and it's brought to you in the comfort of your own home."
Mike concluded: "This virtual conference and live chat will add to the project's vision and thinking as we swap notes on wilding ecology, culture and landscape which will inform and shape our work as we move forward."
Visit www.nwt.org.uk/wildwood for further information and to register for updates.
The Kielderhead Wildwood project has been made possible thanks to support from National Lottery players via a grant from The National Lottery Heritage Fund.