The results are in for East Chevington
Northumberland Wildlife Trust's Catch My Drift project at East Chevington is delighted with its success during 2019 with 2020 shaping up to be even better.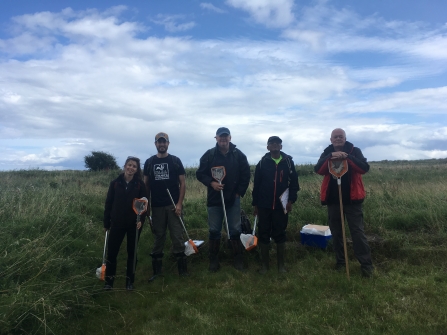 The Project is working to improve the land and habitat for people and wildlife at the wildlife charity's East Chevington nature reserve. Supported by players of the National Lottery via a grant from The National Lottery Heritage Fund, it's 'Catch my Drift' title is a nod to the reserve's history as the former East Chevington Drift Mine (1882 -1962), and the East Chevington Opencast Coal Site (1982 – 1994).
In less than one year, Catch My Drift volunteers and project assistant Sophie Webster attended 31 talks and events with local WI's and bird clubs, held coffee mornings for the local community and guided walks around the reserve.  In the summer, they welcomed students from Northumbria University who plan to base some of their final base module work on potential habitat management at East Chevington. In total, Sophie engaged with 683 people.
The volunteers, aged 18 upwards, clocked up 1004 hours participating in 62 survey events on the 185-hectare reserve, recording 387 species and 276 new species including common lizards, black elfin and saddle mushrooms, chicory, pepper saxifrage, hedgehogs and pale pinion moths.
Perhaps the greatest excitement was caused by the discovery of a harvest mouse nest last October, proof that they are still around, 16 years after 205 were introduced onto the reserve and, one year after they were last recorded at the North East Environmental Records Information Centre.
Sophie Webster, Catch My Drift project assistant says: "This is a really great project; all made possible thanks to players of the National Lottery via a grant from The National Lottery Heritage Fund and a team of fabulous volunteers.
"The amount we have discovered over the past 10 months has been incredible and it just shows what you can find when you start looking. We have all enjoyed every minute of the project and look forward to seeing how East Chevington evolves, thanks to the work we have done this year."