Ride on to Northumberlandia
With the summer holidays fast approaching and the weather looking glorious, it's time to think about an evening of outdoor entertainment with Northumberland Wildlife Trust.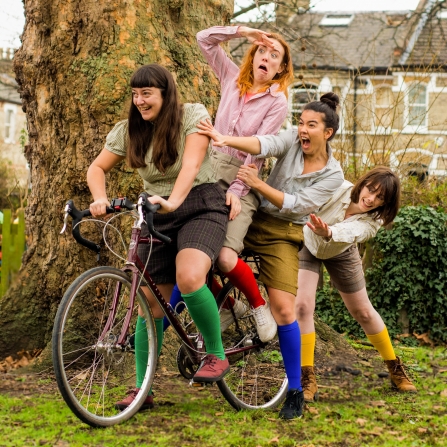 Following the success of previous years' live Shakespeare performance at Northumberlandia in Cramlington, The HandleBards (the Peddling Shakespeare: Cycling Theatre Company) are heading back for the fourth year to woo the region's lovers of the Bard of Avon under the critical eye of The Lady of the North.
This year, it's the turn of the girls - Ellie Stevens, Katie Sherrard, Roisin Brehony and Tika Mu'Tamir to park-up and perform their riotous production of The Tempest on Thursday 22 August. Doors open at 5:30pm. Performance starts at 6:30pm.
So, why not turn off the telly pack your vino, head to one of the North-East's most famous icons with your deckchair, and watch a story unfold about a shipwrecked boat, a desert island… not Love Island! Magicians, sprites and monsters all acted with magic musicality and Shakespearean mayhem
Tickets, priced at £16 can be purchased at www.nwt.org.uk/handlebards. They can also be purchased for £18 on the door.