Sophie takes a trip down memory lane
As part of Northumberland Wildlife Trust's 'Catch My Drift' project which is set to improve the wildlife charity's East Chevington nature reserve, members of the public are being asked to share their thoughts on why the site is important to them and any stories they may have about its heritage.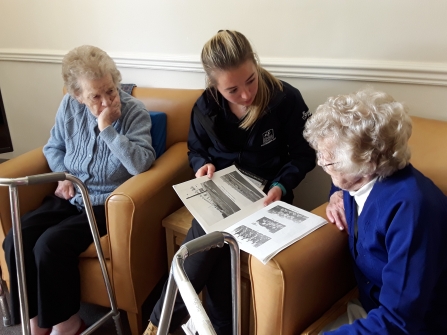 This weekend, it was the turn of the residents at Heatherdale Care Home in Broomhill to take 'Catch My Drift' Project Assistant Sophie Webster on a trip down memory lane.
Sophie spent a wonderful afternoon reminiscing about life on the 'The Drift', as East Chevington Village was known locally, due to the drift mine, which operated from 1882 -1962, before being demolished to make room for an opencast mine. It was so successful; Sophie has been invited back at the end of July.
Most of the men in the ladies' families had been miners, living at the drift then when the time came for them to move, they still stayed local, in the surrounding areas of Hadston, Red Row and Amble.
Speaking about the afternoon, Sophie said: "Whilst it is important to survey for wildlife on the East Chevington reserve it is equally important to find out the social history and what better way to find this out, than from the people who lived and grew up there.
"The residents of Heatherdale were an absolute delight and more than happy to share their stories and I learnt so much from them. Betty told me about the war and how they used the drift mine as an air raid shelter and June told me about Sundays, where she would walk about the streets and could smell the most amazing cooking. 
"I think the residents really enjoyed the afternoon - their memories are invaluable to this project. Also, I'd like to say a massive thank you to Annamarie Wintrip for inviting me along."
In addition, Annamarie who organized the session said:  "It was a lovely afternoon and the ladies loved it."
The 'Catch My Drift' project is funded by players of the National Lottery via a grant from The National Lottery Heritage Fund.