Spring is here - the frogs are back in town
Spring may not officially begin until 21 March, but at Northumberland Wildlife Trust, spring begins when the frogs return to the pond at its St Nicholas Park reserve in Gosforth, and, as they have all been returning this week, spring is finally here… and the sun is shining.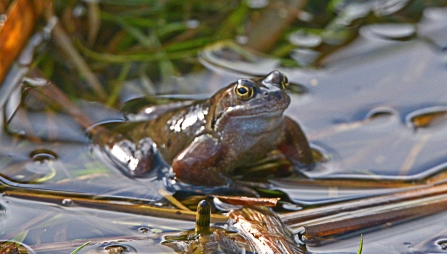 Duncan Hutt, Head of Land Management at the Trust says: "The frogs always return to the pond a couple of days after the Brit Awards but this year they are a bit later due to the cold weather. So who needs Brit winners Lewis Capaldi and Billie Eilish when we have the frogs making their own sweet music? Their arrival onto the reserve really lifts the spirits of staff after the long winter months."
With the return of the better weather in March come the first signs of spring - flowers, bird song and frogs and tadpoles in the region's ponds.
It is also time for the wildlife charity to issue its annual plea for people to help prevent a conservation catastrophe occurring in the region's ponds.
At the last count, around 75% of frogs now live in urban ponds in back gardens and local parks due to countryside and agricultural intensification such as the drying of wetlands, pond removal and reduction of grasslands which affects hibernation and removes vital cover for their survival.
People may think they are doing a good turn moving frogspawn from their own pond into other ponds, but this can lead to severe contamination and pose a threat to the frogs, toads and newts living in the area.
Frogs in particular are at risk from two deadly diseases; the first one chytrid fungus clogs their pores and, as they breathe through their skin, causes them to choke.  This fungus has already been responsible for amphibian extinction in various parts of the world.
The second disease, which is commonly referred to as 'red legs' causes the skin to drop off frogs' legs subjecting them to a very slow and painful death. This condition is incurable and is on the increase in various parts of the UK.