Volunteers head back to the reserves
With the easing of lockdown restrictions, Northumberland Wildlife Trust's practical conservation volunteers have been able to resume work around the region for the first time in four months.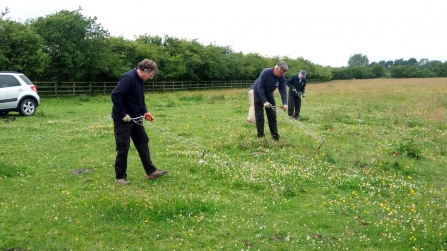 Earlier this week, a team headed out to the wildlife charity's Prestwick Carr reserve, near Newcastle Airport, to carry out the first practical conservation task since March.
Using Lazy Dog tools, the four strong team lead by Estates Officer Duncan Hoyle cut down Creeping Thistle, a fast-growing plant which, if unchecked, can take over whole areas of land within two years.
It was very much a race against time as the thistles needed to be removed by mid-July before they develop flowers. This work has been carried out at Prestwick Carr for several years and the number of plants is definitely decreasing.
The wildlife charity usually has groups visiting the site to cover the field, but this year, because of social distancing, they had to manage with just four volunteers and one staff member.
For the foreseeable future, all its practical conservation tasks will be carried out by smaller groups of volunteers and staff members.
To many people, cutting down thistles may not seem very exciting, but to the volunteers it was just what they had been waiting for - a chance to head back onto a nature reserve.
The same work is usually carried out on Holywell Pond and South Close Field but due to lockdown, the meadows are now too tall to be able to spot and cut the thistles, so will not be tackled until next year.
Speaking about the first task, Duncan Hoyle, Northumberland Wildlife Trust Estates Officer said: "This was the first practical conservation task after lockdown restrictions were eased and the site was chosen as it is close to town for people to access easily. There is also a large field in which to park cars but usually the volunteers would meet at our headquarters in Gosforth and be driven to site as a group in a minibus, but with current restrictions on vehicle sharing this is not possible.
"The Prestwick Carr site is close to Newcastle Airport and we are often disturbed by the noise of planes landing and taking off. With the large decrease in the number of flights, we had a much more peaceful day than usual and could enjoy the songs of several skylarks which were calling nearby. What a way to celebrate coming out of lockdown."
The work was made possible thanks to support from players of People's Postcode Lottery.