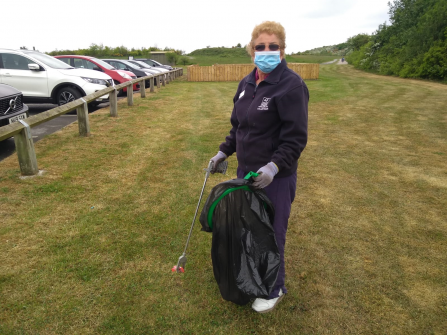 And with an increase in number of visitors returning to the site by car, comes the return of a small number of its Weetslade Wardens or 'Weeties' as they are known by everybody.
The volunteer wardens have looked after the popular site for almost 15 years, providing an invaluable volunteer service to the wildlife charity, collecting tonnes of rubbish each year and monitoring and responding to anti-social behaviour.
So, it came as no surprise to Duncan Hutt, Head of Conservation and Land Management at Northumberland Wildlife Trust, that as soon as lockdown restrictions started to ease, the wardens were on the phone wanting to know when they could resume their warden duties - whilst adhering to social distancing guidelines.
Duncan says: "We have kept in touch with all our volunteers during lockdown via Facebook, email and telephone calls which has been great for them as they all enjoy the friendship that comes from being part of the Trust's volunteer army.
"The full team of wardens isn't back on site yet so we are asking all visitors to be as tidy as possible on the site and to take their rubbish home with them."
Weetslade Country Park lies partially on the former pit heap of Weetslade Colliery. The highest point is 95m above sea level with views to the North Sea and the Cheviot Hills being possible on a clear day with Newcastle spread out to the south.
The wildlife charity is working on being able to open Northumberlandia in Cramlington in early June.