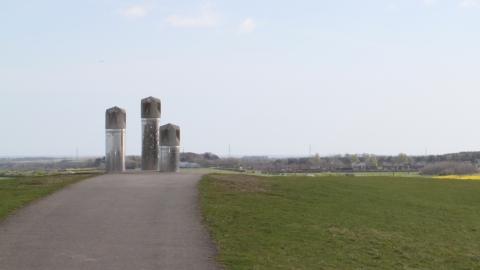 A former colliery site, this reserve has been extensively landscaped to create a wildlife haven on the edge of the city benefiting from a number of diverse habitats.
Location
Know before you go
Entry fee
No
Parking information
Park at the eastern end of the site near High Weetslade Farm on the B1319 near the junction with the A189.
Grazing animals
Highland Cattle over winter.
Walking trails
The main tracks through the reserve are level and well-surfaced, accessible for wheelchair users and pushchairs. Some of the tracks on the eastern slope have been partially eroded by heavy rain but are still negotiable The old wagon way which runs through the park is part of the popular Sustrans Reivers Coast to Coast route is good for walking and cycling. There is a moderately steep incline to reach the top of the hill and sculpture that overlooks the park. Off the tracks, the terrain varies from short grass to steep, often wet slopes with abundant vegetation.
Access
The main entrance is from the east, where there is a car park alongside High Weetslade Farm (NZ260723). Access is also possible from the west, via two public bridleways which lead from Wide Open, on level and well-surfaced tracks.
Dogs
Dogs permitted
Please keep on a lead around grazing animals.
When to visit
Opening times
24/7/365
Best time to visit
All year round
About the reserve
With habitats including wildflower meadows, grassland, scrub, reed bed and woodland areas, the reserve attracts a variety of wildlife including grey partridge, otter and kingfisher. Notably, during spring, the site is alive with the beautiful song of dozens of skylark, while in summer, visitors can delight in the aerial shows of swallows, swifts and martins. Towards the end of summer, flocks of goldfinches can often be seen pulling the seeds out of the large stands of teasel.
The park lies to the north of Gosforth Park, on a strategic wildlife corridor. From the hilltop, with a prominent drill head sculpture reminiscent of the site's mining past, it's possible to view the North Sea, the Cheviots and Newcastle city. The Seaton Burn runs close by and the Weetslade reed beds, are home to many species of invertebrates such as common blue damsel flies, dragon flies and birds such as reed buntings. The reed beds also provide important winter roost sites for pied wagtails, starlings and hen harriers. Small pockets of willow carr have been planted around the edges providing a foraging habitat for great crested newts and Daubenton's bats.
The site is managed by Northumberland Wildlife Trust on behalf of the Land Trust.
Contact us
Northumberland Wildlife Trust