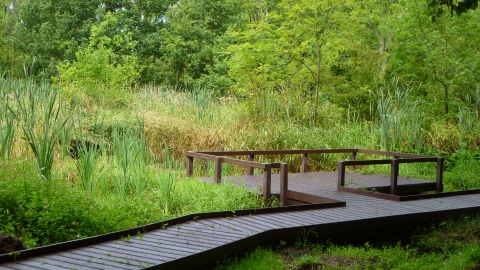 This small, attractive reserve features a mix of woodland and wetland habitats attracting a range of wildlife including woodland and wetland birds.
Know before you go
Entry fee
No
Parking information
Parking is available on the roadside in the estate.
Bicycle parking
There is a cycle rack just inside the entrance gate.
Walking trails
A permissive path leads into the centre of the reserve, but there is no circular route. The path is level and surfaced until you reach the boardwalk, but muddy and narrower beyond this. The main boardwalk has a wide viewing platform overlooking a pond.
Access
Access is via a single kissing gate (wide but with little internal clearance), off 'Charleswood' on the Whitebridge Park estate in Gosforth (NZ245698) – postcode NE3 5LZ. The terrain is level and even along the pathway, but uneven and boggy in place off the path with dense undergrowth.
When to visit
Opening times
24/7/365
Best time to visit
Spring and autumn
About the reserve
The site, situated next to a small tributary of the Ouse Burn, in Whitebridge Park contains a woodland area with a mix of tree species including oak, ash, willow and lime. The non-native sycamore is also present and, while seedlings are discouraged to prevent this tree taking over, the large specimens in the centre will remain.
The reserve is well used by foxes, badgers and deer and a wide range of woodland and wetland birds nest in the reserve. The great spotted woodpecker is a regular visitor to the site searching for insects in dead and decaying wood. Common garden birds such as blackbird, robin, great tit and blue tit nest in the wood with the summer visiting chiff-chaff also present. The wet area contains stands of greater reedmace (more commonly known as bulrush) and there is now a pond-dipping platform. Large areas of Himalayan balsam, a non-native plant, which shades out native species are present and can help cause riverbank erosion. Some control of this plant is undertaken in the summer months. The small woodland reserve was acquired when it was handed over to the Trust as part of the mitigation for a housing development.
Contact us
Northumberland Wildlife Trust