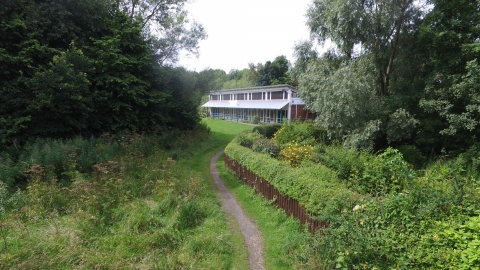 A small wildlife haven hidden in a suburban area featuring a mosaic of different habitats including areas of maturing woodland, two small ponds, grassland and a wildlife friendly garden.
Location
Know before you go
Entry fee
No
Parking information
Park in the hospital car park (charge applies). The site is near bus routes and Regent Centre Metro.
Walking trails
There are various paths through the site.
Access
The main paths are mainly flat and accessible although they can get muddy in places especially around the pond areas after rain.
When to visit
Opening times
24/7/365
Best time to visit
All year round
About the reserve
Home to Northumberland Wildlife Trust's headquarters, the reserve is surrounded by housing estates, and as a result acts as a refuge for many species of animal; with the variety of habitats there is a good number of species to be found in the grounds. There is a play area and a feature stone circle with examples of many of the rocks found around Northumberland.
The ponds harbour a variety of plant and animal species, in particular attracting large numbers of frogs in early spring and during the summer months, dragonfly and damselfly. The meadow area attracts a diverse range of butterfly including holly blue, small skipper, comma and orange tip. There is woodland surrounding the site which was planted up fifteen years containing a wide number of both native and non-native tree species. This provides an excellent habitat for birds all year round, with bullfinch, woodpecker and jay regularly spotted as well a more common garden species. The berry producing shrubs and trees have also attracted waxwings to the site on several occasions. There is a good mixture of plants around the site including meadow sweet and ragged robin. The grassland contains species such as yellow rattle, cowslip and tufted vetch, given time this habitat will become more diverse.
Contact us
Northumberland Wildlife Trust