We need you to help secure 258 vital hectares of Northumberland as a haven for wildlife
Please support our £135,000 Benshaw Moor Appeal
This doesn't happen very often! An amazing piece of land has become available for purchase and would make a wonderful nature reserve. We are already over 80% of the way to securing this important piece of remote and wild upland habitat but need your help to find the missing bit. Benshaw Moor lies in the Rede Valley, near Elsdon and includes blanket bog, grassland and heathland – all important landscapes nationally. 
It's all big skies and magnificent vistas; a feeling you are in the presence of powerful forces and real wildness. There are babbling burns, sprouting springs and even a limestone stepped waterfall. The abundance of plants and animals is stunning. This is home to inquisitive otters, fleeting dragonflies and secretive adders seeking sunny hangouts to bask. 
Species-rich springs are some of the best in the county.

County Recorder for plants for the Botanical Society of Britain and Ireland
Curlews, skylark and meadow pipit are known to nest here and you can even catch a daytime glimpse of the yellow-eyed, short-eared owl as it hunts over the moorland. There are rare butterflies such as the small pearl-bordered fritillary and large heath. And what a paradise for botanists – lots of plants with characterful names such as bogbean, butterwort, limestone bedstraw and grass of Parnassus! The bogs nurture their own specialists such as cranberry, sphagnum mosses and round-leaved sundew. This is such a complex and varied mosaic of habitats that supports mammals, birds, reptiles and insects in abundance.
Your donation is essential today as we must raise the final £135,000 before 29 April if we are to successfully secure this corner of Northumberland for wildlife and posterity.
Bigger, better, more joined up – connecting landscapes so wildlife can move freely
Benshaw Moor is just off the A696, in the Redesdale Valley and falls within the Revitalising Redesdale Landscape Partnership area (a £2.8m project funded by The National Lottery Heritage Fund), where Northumberland Wildlife Trust is already working alongside Natural England, Northumberland National Park Authority, the Forestry Commission and 12 other partners. Benshaw also lies close to Harwood Forest and Wallington where red squirrel conservation is a priority. And of course, it links across to Kielder where NWT has worked for over 40 years restore the border mires and is now creating a new upland woodland at Kielderhead and re-introducing water voles to Kielder. 
This whole area has the potential to be a spectacular example of a 'Living Landscape', a large-scale network of connected land where wildlife can move freely, adapt and thrive. 
Please donate today to buy this land – it's a once in a lifetime opportunity to save a place with such a wonderful variety of plants and animals.
Traditionally, sites like these have suffered from:
afforestation, where large areas of non-native trees have been planted and harvested commercially, diminishing the variety of wildlife 
agricultural drainage, where bogs have been drained, causing soil erosion and increasing the risk of moorland fires and flooding downstream 
peat extraction, resulting in loss of carbon storage, contributing to global warming 
illegal practices associated with some grouse moor management have devastated birds of prey numbers
wind turbines, which here, would cause damage to peatland and disrupt the hydrology through the construction of road infrastructure and turbine foundations 
We won't let that happen here. 
Every £1 you give will unlock £6 towards securing a new nature reserve
With the help of an anonymous donor, legacies, charitable trusts and businesses - we have already raised an unprecedented £568,000 towards buying the land and its initial management costs. We are very moved by how much people appreciate the value of Benshaw Moor as a vital area of bog and moorland; it clearly holds a special place in the hearts and minds of many people in Northumberland and beyond. We are inviting you to join this very special group of people who care deeply about the future of wildlife and the beautiful county of Northumberland. 
Please give what you can and together we can protect and enhance a very unique part of Northumberland at Benshaw Moor.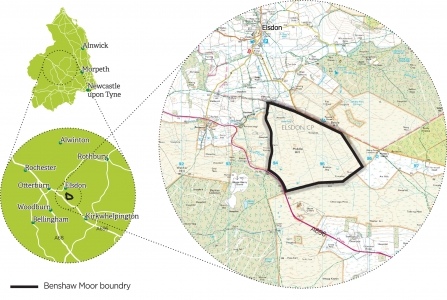 Here's an idea of how your donation will make a difference
£50 will secure 183m2 of moorland for birds of prey.

£100 will secure 366m2 of blanket bog for sundews, dragonflies and butterflies.
£1,000 will secure 3660m2 of heathland to help lizards, adders and otters.
You can also donate by telephone on (0191) 284 6884 with your credit/debit card.