Red Squirrels Northern England
Red Squirrels Northern England (RSNE) is a red squirrel conservation partnership working across Northern England.
About Us
Red Squirrels Northern England is the lead organisation striving to conserve reds, working in seven counties, where wild living red squirrels still exist; Cumbria, Northumberland, Tyne & Wear, County Durham, North Yorkshire, Lancashire & Merseyside.  
The project is managed by Northumberland Wildlife Trust, in partnership with other northern Wildlife Trusts, Forestry England, Natural  England and Red Squirrel Survival Trust. The partners work hand-in-hand with local communities and hundreds of passionate volunteers, with a core aim to secure the future of this most cherished British mammal.
We protect red squirrels in the following ways:
Helping people understand why reds are under threat and why action is needed
Working with communities and volunteer red squirrel groups to encourage local support and involvement  
Monitoring woodlands to better understand where reds live so we can take action to conserve them  
Managing grey squirrels in areas where reds are found in order to allow reds the space they need to thrive
Developing and nurturing partnerships to ensure there is a joined up approach to this work
Three Ways You Can Help
Learn more about RSNE, including how you can get involved, via their website www.rsne.org.uk
You can also follow our progress on Facebook and Twitter or sign-up to receive the quarterly newsletter here. Read the latest Red Report here.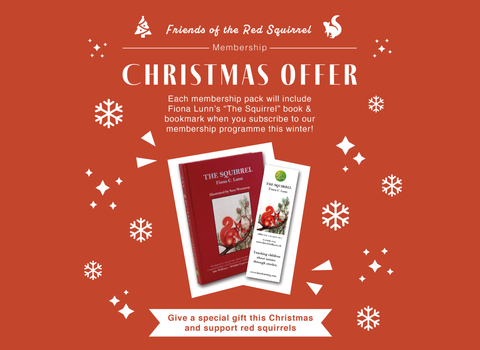 Friends of the Red Squirrel Christmas Membership offer
Give a special gift this Christmas or treat yourself and support red squirrels!
As well as the standard Friends of the Red Squirrel membership pack contents, our special Christmas membership pack* includes a copy of Fiona Lunn's fantastic 'The Squirrel' book and a delightful red squirrel bookmark! It's the perfect Christmas gift for red squirrel lovers.
*Please note that you must purchase your gift membership by midnight on Monday 14 December to guarantee delivery in time for Christmas.
After collating and preparing around 19,000 records, thanks to the Northern Red Squirrels community volunteer groups, we put together a summary of the year's grey squirrel management efforts/results. Of the total grey squirrels managed, >80% was due to local volunteer group effort. RSNE contributed 13% in Cumbria and 27% in Northumberland (or 16% of the combined area) - principally around strongholds and filling in the gaps.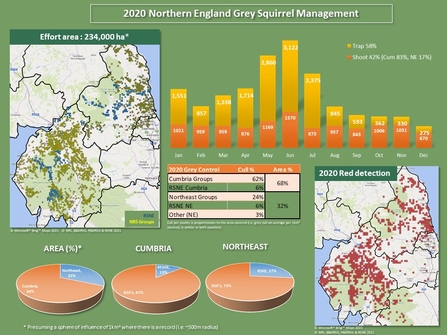 RSNE's Annual Squirrel Monitoring Programme
We established the annual squirrel monitoring programme in 2012. Standardised monitoring is undertaken in 300 woodlands and gardens each year during a three month period in spring from 1st March to 31st May across known red squirrel range in northern England. The aim of the programme is to build a long-term dataset that will evidence changes that may occur to red and grey squirrel range over time in areas where red squirrel conservation activity takes place. View the latest report here.