Behind the scenes of an NWT Internship
Today is the end of my first week as an intern of Northumberland Wildlife Trust. As part of my university course, I have chosen to undergo a five-week internship, to contribute towards my BSc Geography degree at the University of Chester. Within the first week I have already been welcomed into a large team of dedicated employees and volunteers, whose aim is to not only improve the habitat of Northumberland, but to also engage the public so that they can also contribute to their beautiful surroundings.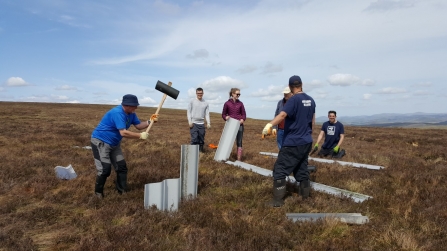 Throughout the week I have been introduced into the life of a Wildlife Trust Officer, although not what I expected, working within a charity that specialises in wildlife conservation, the regular was never really going to be an option. The tasks that I have completed so far have been varied from office work such as fact checking and writing website content to practical work such as invasive species and erosion control.
My first experience of the practical conservation that the Trust carries out was at Whitelee Moor, located on the border with Scotland. Throughout the day, I joined a team of volunteers and employees to construct several dam-like structures on the peatlands at Whitelee Moor.
The area is made up of active blanket bog and heather heaths, therefore restoration work is of great importance. To construct the grip blocking that prevents erosion to the peat, the team use coir logs, consisting of coconut fibres encased in a twine mesh system. Coir logs are then inserted into the unwanted channels that crisscross across much of the area, perpetuating the ongoing erosion. The coir logs are secured through digging into the side of the banks to secure the outer parts of the coir-roll system, and using stakes to pierce through the centre of the roll into the ground.
The purpose of the coir logs is to slow the flow of water down the channels, rather than to form a complete barrier. The semi-permeability of the coir logs results in a build-up of peat sediment on the hill rather than the eroded material being washed down the slope. The work commenced in 2015 in small numbers, and now with over 500 dams installed, there is significant reduction in the erosion that occurs. Not only does this project enable the peat to remain on the hillside, stabilising the environment, it also prevents the sediment from entering the Catcleugh reservoir.
What's definite, is that job within NWT is varied, exciting and always different, and I'm looking forward to gaining lots more experience over the next four weeks.