Matt's first three months with Ratty!
At the end of August 2019 I packed away my study books and prepared to start my student placement with Northumberland Wildlife Trust.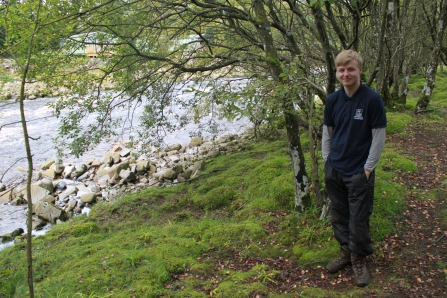 Part of my role here is to assist the Restoring Ratty team.  Restoring Ratty has allowed me to see how a reintroduction project works with a unique viewpoint of seeing both the manual monitoring for water vole and mink, but also the fundraising and planning side of the project.
I feel like in my first 3 months here I have contributed to the project; I have learned to survey for water voles and distinguish between water and field voles; I have also learned how to identify signs for mink. I have set up camera traps and put up 'Ratty is here' signs; any wonky signs were Graham's!  I have also made clay, built a raft, driven into a ditch, gotten lost countless times, fallen into a pond and eaten many macaroni cheeses pies, Bellingham bakery for a quid can't go wrong.
Summer has officially ended and the quiet season for water voles has begun. Now is the time for planning and visitor engagement. My visitor engagement is going well, last week I pointed out a water vole swimming across Bakethin; the man then gave me his binoculars and told me that it was in fact a duck. Hopefully visitor engagement will improve over the next 3 months…
I continue to learn something new every Monday, I hope this continues. I have returned to Northumbria university and wowed my friends with priceless information such as water voles fit into Pringles tubes, Glasgow has a population of fossorial water voles, mink will feed exclusively on water voles, and there is a water vole breeding centre in Devon.
I have had the most enjoyable of 3 months. They have flown by and now I am worried the countdown to my return to uni has started. I am unsure how I will adapt to going back, but Kelly left uni nearly 20 years ago and looked totally at home on a bean bag today so maybe it won't be too bad.
Matt.