My Work Experience Placement - part 8
As I have now been with Northumberland Wildlife Trust for around seven months (which has flown by), I have been lucky enough to see some incredible wildlife. As wildlife photography is a hobby of mine, I thought that I would share some of the most memorable encounters that I have had.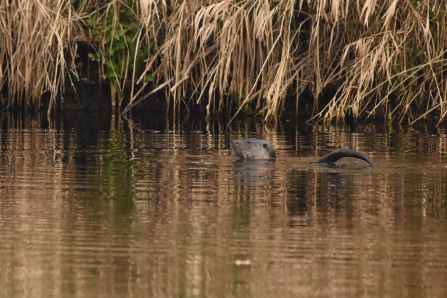 Where else to start with the wildlife encounters than with the red squirrel? As I am originally from Leeds, we are not lucky enough to have any of our native squirrels nearby; therefore I was desperate to see one in Northumberland. I was so keen on seeing one that I would rush back from work to a place that was supposed to have reds and run about a mile through some woods for the chance of catching a glimpse of the elusive species. As with all wildlife, this was easier said than done. Myself and Dan would always joke when going to fill up the feeders at Kielder Waterside, that if I brought my camera to the hide, there would be no squirrels around. One Sunday I decided to go up to the hide and I was rewarded by watching two red's run around for half an hour in front of me.
The next encounter is a bit more exotic, one evening I got a text from the boss who had seen a European bee-eater earlier in the day only four miles from where I live. Unfortunately she believed that it was just passing through and would have probably moved on by the time I found out. About a week later, the bee-eater was still hanging around and I was able to go and see this wonderful bird. It sat very happily in a tree, almost posing for the group of photographers beneath it, occasionally flying up to catch insects. After taking hundreds of photos, I was pleased that a few came out alright.
Since I first started photographing wildlife, I have always been keen to photograph different species of owl. One evening in winter, when I was returning from work, I spotted a barn owl flying over a small pine plantation. Unfortunately, it was too dark to get a photo but as the weather was fine the next evening I planned to return to the spot hoping to catch a glimpse of it again. I got more than I had bargained for. Not long after pulling up in the layby the barn owl appeared and began to quarter the pine plantation. Whilst taking photos something on top of a nearby tree caught my attention, it was only a long eared owl! It gave the barn owl a telling stare with its dark orange eyes which led to an incredible encounter for myself as well as some fantastic photos.
The last encounter was probably the most special, as since I have been in Northumberland it has been pretty close to the top species I wanted to see. The species in question is the Eurasian otter. Being crepuscular, it was always going to be difficult to see one. After months without any success I was growing frustrated, especially when I would see photos of other people having close encounters with them in photography groups. One morning whilst waiting for a lift, I decided to walk down the river bank. With not much showing apart from a few great tits and coal tits, I was nearly back to the road when I caught something out of the corner of my eye. Instantly I knew it was an otter, my heart was racing as I couldn't believe what I was seeing. After taking a couple of photos I watched it swim off further down the river and I had to go back for my lift, but nevertheless it was a great start to the day.