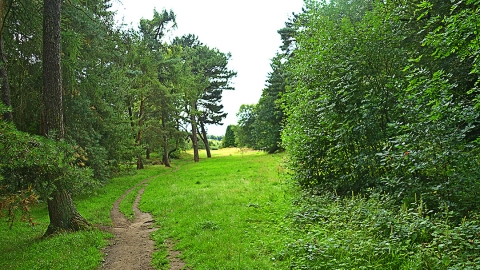 One of a suite of calaminarian grasslands along the Tyne, South Tyne and Allen, this site is an excellent place to see alpine penny-cress and other plants influenced by heavy metal contamination.
Know before you go
Entry fee
No
Parking information
Parking is available at Wylam in the Country Park car park NE41 8HP (free).
Walking trails
Walk from Wylam to Stephenson's Cottage (National Trust). Within the reserve there are two paths – one is very narrow, steep at times and undulating, following the riverbank closely, whereas the other is more level and offers good access to the western side of the reserve, which is largely grass. Towards the eastern end of the reserve, the path is narrow and muddy in places.
Access
There are various possible entrances to the reserve, approached via Wylam or Newburn riverside but we recommend access to the reserve from Wylam. From the car park, a wide offset gateway leads to a roadway before the Waggonway begins. A locked barrier restricts access, but there are gaps either side – a kissing gate (OL 127650) leads onto the grassland of the Riverside Country Park. The reserve is entered from this grassland via a much narrower kissing gate - the path is uneven and muddy in places. The terrain is generally level, although the grass tracks can be narrow and muddy in places.
When to visit
Opening times
24/7/365
Best time to visit
April to August
About the reserve
Close House Riverside nature reserve contains calaminarian grassland on the River Tyne floodplain, one of a few rare habitats only found in areas where there are high concentrations of heavy metals. Calaminarian grassland is restricted to the Tyne and Allen river systems, the heavy metals (zinc and lead) are washed from old mine spoil heaps from the North Pennine Ore field into the rivers which then carry them onto riparian habitats. Heavy metal resistant flora present on the grassland are alpine pennycress, and re-introduced spring sandwort. Dune helleborine are found on the edge of the grassland under some young beech trees and can be found further into the woodland.
The broadleaf woodland that runs along the site by the riverside, although young, is a very good habitat with a wide range of fauna and flora. The grassland is good for butterflies such as meadow brown and small skipper. There are several invasive plant species that are present in the woodland such as snowberry, Himalayan balsam and giant hogweed, which have to be constantly managed. The river is tidal and the banks are steep in places.
At low tide you can often see king fisher hunting in the rock pools and shallows.
Habitat
Contact us
Northumberland Wildlife Trust
Environmental designation
Site of Special Scientific Interest (SSSI)