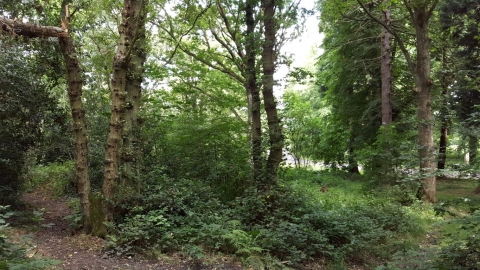 Priestclose Wood is an ancient woodland close to the centre of Prudhoe attracting rich birdlife and featuring a small pond, harbouring a variety of amphibians.
Know before you go
Entry fee
No
Parking information
There is no designated parking, although there are a limited number of hard standing areas on the lane behind Priestclose Cottages just off the main Prudhoe to Ryton Road (NE42 5DL). Further street parking is available on Stancley Road (NE42 5AG).
Walking trails
From the main entrance, there is a wide, partly-gravelled path, with two small boardwalks, which leads to the pond at the edge of the reserve. 
Access
The main entrance is from a small lane behind Priestclose Cottages, off the B6395 east of Prudhoe town centre. A series of seven rough steps are just beyond an open entrance. There are many other formal and informal access points around the perimeter of the reserve. 50m west of the steps is a gently sloping, surfaced path which leads to a dipping platform before looping back round the pond. The terrain is generally moderately difficult, with some steep slopes and many tree roots across paths. The paths are often muddy, particularly through the winter.
When to visit
Opening times
24/7/365
Best time to visit
Spring and autumn
About the reserve
The site consists of mainly oak, birch and rowan but ash, holly, willow and elder also occur. Management is ongoing to control non-native and invasive tree species such as sycamore, Norway maple and beech.
Patches of wood anemone and lesser celandine are present in early spring, followed by greater and wood stitchwort, wood sorrel and bluebells. Later, foxgloves provide colour on the woodland floor.
A variety of birds are found in the reserve including jay, treecreeper, great-spotted woodpecker and redpoll. Fox and deer also frequent the wood. The small pond is home to a variety of amphibians including all three species of British newts.
Habitat
Contact us
Northumberland Wildlife Trust
Environmental designation
Local Nature Reserve (LNR)