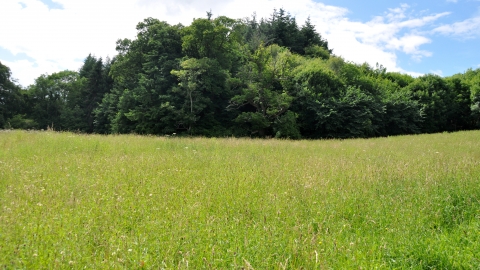 Please note that members of the public should contact the Trust to request access permission for this reserve. This measure has been introduced to limit the number of visitors to prevent excessive damage to the flora.
This small reserve is one of the best lowland meadows in the area, featuring grassland which is particularly good for spotting butterflies and a small pond attracting amphibians and damselflies.
Know before you go
Entry fee
No
Parking information
Parking is available on Millfield Road (NE44 6DW) close to the village hall, with a short walk to the field.
Grazing animals
Exmoor ponies are used to graze the field in the winter after the hay has been cut and removed. The grazing and the hoof action on the soil helps seed germination and improves herb growth.
Walking trails
There are no footpaths through the reserve.
Access
Please contact the Trust to request a permit for access to this reserve.
Access to the reserve is via an unlocked 5-bar gate, at the end of a private road leading from Marchburn Lane in Riding Mill (NZ012612). The terrain is relatively level in the lower part of the meadow, but there are no paths. The upper section of the meadow is steeper and often waterlogged.
When to visit
Opening times
24/7/365
Best time to visit
April to July
About the reserve
In early summer the field is a colourful display with yellow rattle covering large parts of the open grassland. Yellow rattle is a parasite on grass and helps to suppress it allowing flowering herbs to thrive. The meadow contains a mix of flora including yellow oat-grass, cowslip, bird's-foot trefoil, oxeye daisy and agrimony. There are a few areas of more rank grassland vegetation with cow parsley and dock, which get an additional cut in the year. The field is particularly good for grassland butterflies such as meadow brown and skippers.
A very small pond (created in 1979) exists in the middle of the grassland area and is good for breeding amphibians and is also used by large red damselflies. A small wet flush near the top of the meadow contains rush. The coppiced area contains some ash with a mostly hazel understorey. Ground flora contains bluebell, wild garlic and dog's mercury. Golden saxifrage and water avens are amongst the species closer to the river. Common woodland birds are present in and around the site.
Contact us
Northumberland Wildlife Trust