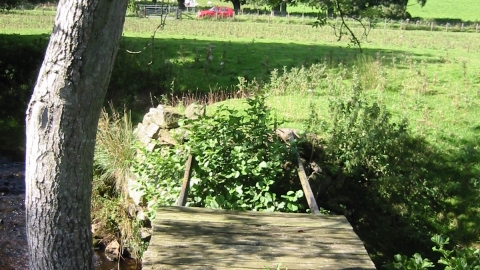 This reserve features a fine mix of semi-ancient woodland, as well as a pretty burn, providing perfect habitat for some interesting flora and fauna.
Know before you go
Entry fee
No
Parking information
Use the parking area for the Darden Lough walk, about 0.5 miles north of Grasslees Farm (nearest postcode NE65 7AU, grid ref OL42 NY958982). Parking is available in the lay-by on the B6341 (OL42 958982), where there is space for several cars.
Walking trails
Follow the Darden Lough walk until it crosses the burn then bear right on the marked route. The public footpath from the lay-by to the reserve is uneven and unsurfaced, very muddy in places and there is a small, narrow footbridge in the valley bottom.
Access
Entrance to the reserve is 800m from the nearest road (OL42 953975), through a wide latch gate. To reach the reserve from the lay-by, a narrow kissing-gate leads onto a grass footpath, which eventually bears south-west after crossing the Grasslees Burn. Access is via two fences without stiles. There are moderately steep slopes in places, and the terrain is very muddy in the valley bottom. There are no footpaths within the reserve, and tussocky/stony ground has to be negotiated.
When to visit
Opening times
24/7/365
Best time to visit
All year round
About the reserve
An area of ancient semi-natural woodland which contains stands of alder and birch in the wetter areas with oak, rowan and ash where the ground is drier. At the northern end of the site are butterwort, lousewort and marsh violet.
Nearer the burn there are fens dominated by yellow flag and meadowsweet. Parts of the site are bracken-dominated but contain a good spring flora. Birds include pied flycatcher, redstart, wood warbler, cuckoo and woodcock. Roe deer are now excluded to encourage regeneration of parts of the woodland, which seems to be very successful, particularly for birch. The reserve is managed in association with the Defence Estates of Northumberland National Park Authority.
Habitat
Contact us
Northumberland Wildlife Trust
Environmental designation
Local Nature Reserve (LNR)
Site of Special Scientific Interest (SSSI)