Dare to be wild this June
There's still time to sign up for this year's national 30 Days Wild campaign with Northumberland Wildlife Trust and give yourself a much needed nature boost during these difficult times.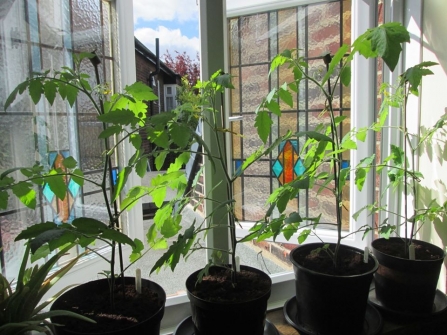 According to a new review from the University of Derby, the feel-good factor from simple daily contact with nature can last for months and better still, at a time when people are worried about money, nature is free!
Over a million people have taken part in 30 Days Wild during the last five years and in 2019 Northumberland Wildlife Trust encouraged hundreds of people and dozens of schools and care homes to take part.
This year, 30 Days Wild has attracted well-known supporters including TV presenters Monty Don and Dr Amir Khan, The Vamps' James McVey and fitness guru Zanna Van Dijk.  
By visiting www.wildlifetrusts.org/30DaysWild everybody can sign-up and download wallcharts, wildlife bingo, instructions for baking hedgehog cupcakes and activity sheets that suggest easy ways of enjoying nature whatever their location - from kicking your trainers off in your local park, sitting on your doorstep having a cup of tea (or something stronger) to growing seeds on your kitchen windowsill.
There are also a number of brand new downloads this year including wildlife gardening tips from Monty Don, a beginner's guide to wildlife photography from award-winning George Stoyle and wild fitness ideas from Zanna Van Dijk.  And don't forget - it's all free!
Mike Pratt, Northumberland Wildlife Trust Chief Executive says: "This year like never before, our lives have been changed by coronavirus and this is giving people a reason to reflect on their relationship with nature, the way we live our lives and how we spend our free time. Precious moments outside on a daily walk help us to relax and feel happier. Even watching wildlife from a window, or on a webcam, connects us to that sense of being a part of nature, not apart from it."
Dr Amir Khan, The Wildlife Trusts' health ambassador and TV doctor, says: "Being outdoors and enjoying nature is fantastic. Not only to see what's going on around us, but also for our physical and mental health. A lot of research has shown that spending - even a short amount of time - embracing nature, can have a positive effect on our health."
James McVey of The Vamps says: "Sometimes it can be hard in our busy lives to make a little time for us and get outside. We can get wrapped up in what we're doing, forgetting the incredible and wonderful things that are happening around us. That's why I look forward to June and The Wildlife Trusts' 30 Days Wild challenge. It reminds me, whether I'm at home, on the road or in the studio that outside the door is the magic of nature. Doing something, anything, each day to appreciate this helps me feel connected and grounded to our amazing world."