Don't forget to give a present to wildlife this Christmas
Mistletoe, holly, robin and deer are all associated with the forthcoming festive season, and are reminders that the season's magic is tied in to the wonder of wintry wildlife, so, show your appreciation for wildlife this winter by following these simple suggestions from Northumberland Wildlife Trust.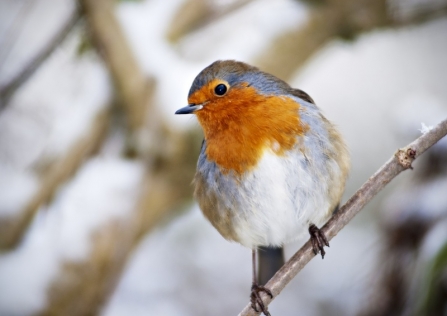 Gifts in the garden
When winter comes, the wildlife in your garden will suddenly find precious food sources are running low and conditions are less than comfortable.
With a little diet provision and some shelter, chances of survival suddenly become much improved.  So, when allocating Christmas gifts, spare a thought for species outside and spend a little time making your garden more wildlife-friendly.
Feed the birds - give the birds their own Christmas dinner by putting the fat from your turkey, and, once that's all gone, leave out high energy foods like fat balls and seeds, and provide fresh clean water; remember, once you start feeding them, keep supplies topped up so they don't burn energy coming to your garden only to be disappointed.  
Let your garden go a bit wild - immaculately tidy gardens with trimmed grass and no debris provide little shelter or food for wildlife.  Unruly ivy and long grass provide countless nesting places for insects, beetles, spiders and more - also food for some garden visitors. 
Provide shelter - recycle your old Christmas tree in January and create a five star habitat haven for birds and insects; alternatively, piles of leaves and other garden litter can provide much needed cover for small critters, such as voles and ladybirds, and you might even have a hedgehog move in.  If you have some cash left after Christmas, buy a hedgehog hibernation box or bird box for your garden.
Don't forget amphibians - they seek out crevices to squeeze into, so leaving piles of rocks or logs around the garden can help.
Geoff Dobbins, Northumberland Wildlife Trust Senior Estates Officer said: "Robins singing in the depths of winter is a great source of pleasure and can really lift the spirits, so let's all give wildlife a helping hand as the weather turns colder. Even if everybody only does one thing, it would make life easier."