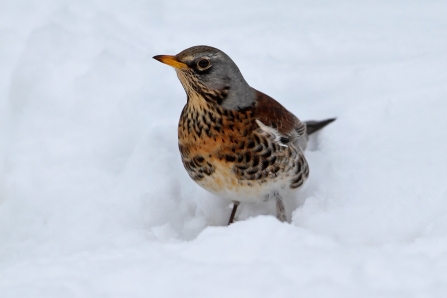 Bowls of everyday items found in kitchen cupboards such as suet, peanuts, seeds, apples and dried fruit plus a bowl of fresh water will really help many birds and small mammals survive the cold spell. Bread is not the best thing to put out, but it is better than nothing.
And, for people who can't face the cold, the Trust has five gardening tips on how to bring wildlife to their doorstep so they can watch through the window - easier than most people think, as it is mostly about what not to do.
Let it grow, let it grow, let it grow
If your grass keeps on growing, let it! Leave it to provide shelter for insects through the colder months, which, in turn, will feed the birds. If you don't want to leave the entire lawn, adjust your mower to cut the grass to at least 3.5 - 5cm and consider leaving a patch to grow, which can provide a haven for creatures such as frogs and mice.
Don't clear away rotting wood
Rotting wood is a valuable part of the ecosystem. If you leave it, it could become home to beetles, fungi, centipedes and more.
Don't burn or discard all the dead leaves in your garden
Some creatures use dry leaves to line their nests or burrows. If you make a pile in the corner of your garden, something is bound to move in. The mulch left over from dead leaves is full of nutrients which is good for worms and other mini-beasts.
Don't cut back your ivy
The flowers can provide nectar to insects like queen wasps through the Autumn/winter months and it offers a safe warm hideaway for butterflies and small mammals. The berries will ripen through winter and provide food for birds.
Don't cut back hedges when they are producing berries
All sorts of berries are a valuable food source for birds and mammals, when there is nothing else around for them to eat.
Geoff Dobbins, Senior Estates Officer at Northumberland Wildlife Trust says: "Gardens are a vital source of shelter and food for wildlife, especially in autumn/winter when many species need warm, dry spaces to bed down in."
He continued: "When you are out in your garden, please bear in mind how holding back on some projects can help wildlife, and you will be rewarded with visits from some wonderful species, as well as the knowledge you are making a positive contribution to wildlife and the environment."