My first week of 30 Days Wild!
30 Days Wild is The Wildlife Trusts' campaign which challenges people to do something wild every day for a month – the purpose is to make people feel more connected to the nature around them.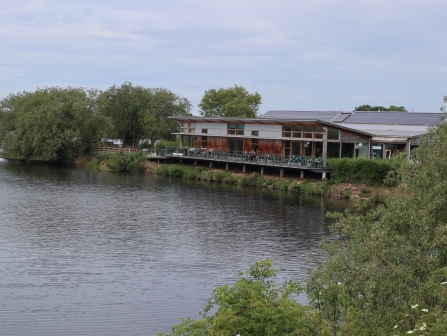 I signed up as I know how much happier, healthier and relaxed I feel when I spend more time with wildlife.  
I decided to write this blog as a weekly round-up as I thought I would be more likely to achieve the challenge if I didn't set myself another challenge of blogging every day. I've also been tweeting all about it – you can follow me at @womanofaran. I hope you enjoy reading about what I've been up to so far and that it gives you some ideas if you are taking part in the challenge too.  
One thing I've found important is to remember that it's the little experiences with wildlife, learning about it, and giving it a helping hand that counts too. With a busy day job, I'm not going to be able to visit a nature reserve every day and I'd miss the point if I did. Week one, I was lucky as I had some time away from the office.
Day One – Saturday
I did start with a visit to a nature reserve though, after all it was a Saturday. With temperatures set for over 20 degrees, and stopping at the mother-in-law's, the organised Summer Bird Identification Walk with Nottingham Wildlife Trust at the Attenborough Nature Reserve seemed the perfect way to start the challenge.  
The guide explained how this is one of the most important nature conservation sites in the East Midlands. The eco-friendly centre itself is well worth a visit too with a lovely nature shop and café. The site was formerly used as gravel pits and is still owned by CEMEX (a gravel extraction company) and managed by the Trust. The reserve, which was established in 1966, is part of an area of Special Scientific Interest and covers 145 hectares and includes not only lakes (formed by the flooded pits) but wetland, grassland, scrub, willow and woodland.  
A highlight for me was watching the sand martins in the sunken bird hide flying in and out of the artificial nesting bank. The return of these birds from Africa is a sign for many that summer has arrived. The first day the bank opened, the guide explained, they flew in. Since, they have ringed over 1,000 sand martins and Attenborough now impressively contributes to around 10% of sand martins ringed in the UK.
A less amateur bird watcher in the group counted 48 bird species on our walk. This included nesting cormorants, a kestrel, sparrowhawk, reed bunting, reed warbler, blackcap, lesser whitethroat, ringed plover, and not to forget geese – plenty of noisy geese. This is after all the city well known for the Goose Fair. 
Day Two - Sunday
Over the past month, I have noticed that the road verges near where I live have not been mowed to death to be all 'neat and tidy' but are bursting with life and colour as the wildflowers have been left to grow.  
As 97% of wildflower meadows have been destroyed since the 1930s, road verges are some of the last stretches of natural habitat for our bees, bugs, birds and butterflies left. With over 238,000 hectare of road verges in the UK, it's a great way to allow wildlife to connect and make their journeys too. It is so important that we allow these roadside nature reserves to bloom for our declining pollinators, I just hope those I stopped to look at today do not get cut down in full flower.
Day Three - Monday
Today I went out into the garden to water my seedlings and pop a few more into the soil. This year, I am only growing a small selection of veg - kale, lettuce, chard, watercress, rhubarb and spinach. Having guinea pigs, I go through vast quantities of lettuce and kale and so to have a large fresh supply of them in the garden makes perfect sense. I also can't stand all the plastic these come wrapped up in from the supermarket and even local grocers. As part of the challenge this month, I really want to think about how I can reduce the amount of plastic I use. I hope Waitrose's packaging free trial is a success and makes others act - it's about time all supermarkets do. Filling our bags for life with plastic wrapped food is crazy. 
Day Four - Tuesday 
Filling up the garden bird feeders and popping to the shop to replenish the supplies was my time made for wildlife on Tuesday. An article in The Guardian by Patrick Barkham recently reported that more than half of British households feed birds, maintaining 133 species, so I'm certainly not alone. For me, it's my way of making sure we're replenishing some of the food for the birds that we've taken by intensively producing our food in the countryside. 
It also brightens my day seeing all the songbirds at the feeders, but I don't feel so welcoming of the daily invasion of crows or the chattering arrival of starlings (despite how pretty they are) which steal all the food. I'm having to top up three feeders a day now.
Day Five - Wednesday  
To celebrate World Environment Day, I attended Climate Action North East's second sell out annual conference - Rewildling – A Solution for Climate Change. I was invited by Northumberland Wildlife Trust, who had sponsored a table at the event and their Chief Executive Mike Pratt was chairing. At last year's event, Chris Packham presented his thoughts on the decline of nature. This year, the subject was on rewilding which Rewilding Britain says "is all about bringing nature back to life and restoring living systems."
Throughout the day, a range of inspiring speakers all brought their own perspective on what 'rewilding' means and how it can help nature restore naturally. My highlights were Doug Allan, Blue Planet cameraman and award-winning photographer, who described the evidence of climate change he has seen in the Arctic and Antarctica, and Isabella Tree, author and owner of the Knepp Estate. I'd just started reading Isabella's top selling book 'Wilding' which tells the story of the estate in West Sussex and so I was looking forward to hearing more. Isabella discussed how they made the brave decision to hand their struggling intensively farmed 3,500 acre estate back to nature. With a little human intervention, which included introducing free roaming animals, the degraded agricultural land is now a functioning ecosystem and a brilliant rewilding success story. It is now home to rare and endangered species and bursting with the lost sound of summer – the song of the turtle dove, whose numbers have fallen by 93% since 1994.
Day Six – Thursday
I don't really consider my local patch as being a haven for wildlife or an example of rewildling but today I realised it is. Following the Bowes Railway track to Eighton Banks shows what happens when you let nature take back control. There was an abundance of wildflowers growing and buzzing with bees, butterflies and birds along the track which runs parallel to the working quarry. Over the reed beds, swifts were swooping, whilst a moorhen made his way along the pond and a bullfinch hid in a tree. Today was a good reminder that I don't have to travel far to experience nature and some of the wildest of places are the ones where normally humans don't roam. 
Day Seven - Friday
Today was my first away day as a trustee for the Trust.  Our trip was to visit the Trust's new 63rd nature reserve, Benshaw Moor in the Rede Valley near Elsdon. After a successful fundraising appeal, the Trust has recently secured the amazing wildlife rich site. Duncan Hutt, Head of Living Landscapes and Conservation, provided trustees and staff with a guided tour of the site, pointing out the mix of habitats including blanket blog, heather heathland, grass and limestone sands. The site certainly has a very wild feel when you stand out there on the open moor against the big open skies. From bogbean and butterwort plants to otters, butterflies, adders, curlews, skylarks and short-eared owls – the site is already rich in plants mammals, birds, reptiles and insects. After a picnic by the limestone stepped waterfall, the afternoon was spent discussing how this site can be an even more important haven for wildlife. It was great to hear the wide range of ideas from staff and trustees of how we can help make sure it has an even wilder future. 
Day Eight – Saturday 
Today I woke in Castle Douglas in Dumfries and Galloway to the sound of the rain pouring down. Directly opposite the cottage I was stopping in for the weekend was Carlingwark Loch, one of over 30,000 freshwater lochs in Scotland, where I wandered once the rain settled. Peacefully nesting on the loch was a mute swan looking after its eggs with its partner nearby, whilst above the swifts whizzed past - hoping to catch the insects out after the rain. The circular path also covered the wider area, a mix of reed beds, marshland, woodland and farmland. It was a nice refreshing five mile walk and good to get the whole family involved in the wild challenge too.