My third week of 30 Days Wild
30 Days Wild is The Wildlife Trusts' campaign which challenges people to do something wild every day for a month – the purpose is to make people feel more connected to the nature around them.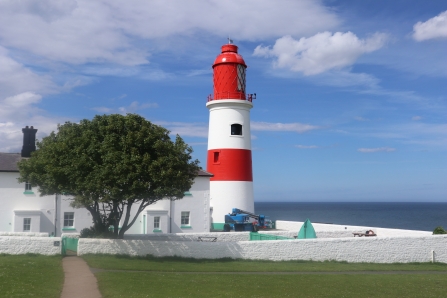 Sunday – By the sea
After a visit to see my dad on Father's day in my home town, South Shields, I took a trip to Souter Lighthouse in Marsden to visit the wildlife that surrounds those red and white loops and rocky coastal cliffs.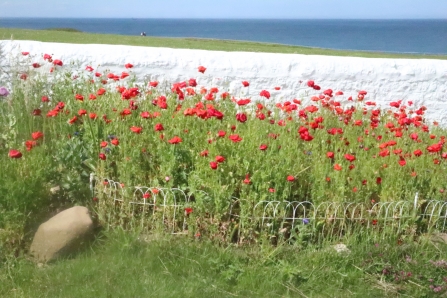 As the first lighthouse in the world purpose built to generate electricity, the iconic landmark and its flower filled picnic garden are worth a visit themselves but today I was interested in the surrounding wild spaces I visited on my last very early morning trip there on Dawn Chorus Day.
Thanks to the organised walk by the National Trust I'd discovered there's also Whitburn Point Local Nature Reserve with a new artificial sand martin nesting bank, and a hut from which bird ringing takes place (this spot gets many migrating birds passing through) all just hidden out of view.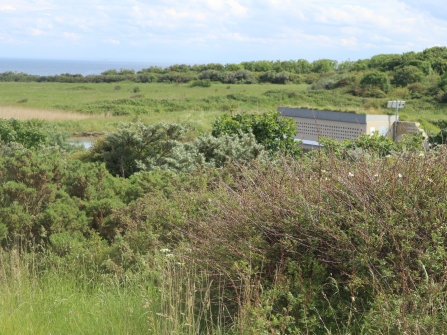 The last time I visited the artificial bank, which opened in March 2018, the rangers were still waiting for the first sand martins to nest. I hope there has been takers since, especially after all the rain we've had over the past couple of weeks. The 140 safe nesting holes were created to help the population of sand martins in the area which have declined. Due to the ground softening, as a result of long periods of rain, the rangers had sadly witnessed cliff nests collapsing with adult birds and chicks trapped inside.
Whilst we didn't see as many birds this time at the reserve, it was lovely to get out in the fresh air and enjoy what feels like a little secret space for wildlife. It was also great to see the maritime plants thriving and wild flowers growing on the lime rich soil grasslands as the kittiwakes, cormorants, shags and guillemots could be seen and many heard calling from the cliffs in the distance.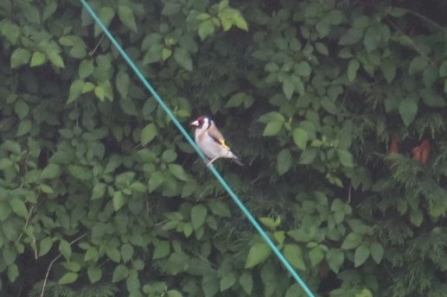 Monday – Shy and charming
Today, for the first time, I spotted a bullfinch in the garden on the feeder. This was a real treat as they are rare visitors to the garden and quite shy. Here's a little description of the bullfinch I wrote a while ago ...
Bold in colour, but shy in nature, the large plump finch dresses in a black cap and balaclava and calls with a low-pitched whistle. The male is the most distinguished with its bright rosy-red cheeks and breast. They come equipped with a stubby bill, ideal for eating buds in winter.
It was a male I spotted today. Unfortunately, I didn't get a picture, well they are shy after all, but hopefully I'll see him again and before the month ends.
I also spotted the 'charm of goldfinches' that brighten up the garden on a regular basis with their cheerful red face and yellow wing patch. Unlike the bullfinch, they are a highly social bird and there's often one on the washing line just twittering away and keeping an eye on things.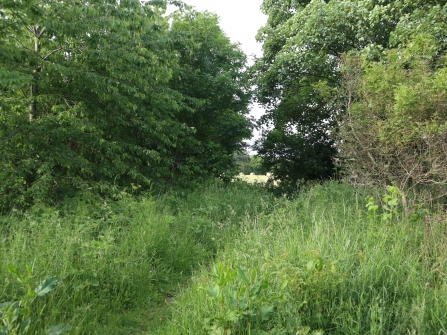 Tuesday – A surprise owl
The sun was out after work and so I took a trip to Lamesley Pastures in Gateshead, which is managed by Durham Wildlife Trust and close to my home. Most people will be more frequent visitors to the pub beside it, The Ravensworth Arms, where it's best to park for easy access to the two designated local wildlife sites.
My first wander was to the bird hide opposite but I was quite disappointed as for some reason the key I had for it wouldn't work. Behind the door is a view onto the wetland which is always full of wading birds including lapwings and curlew. I still managed to see these though from the gaps in the hedgerows. I also spotted a heron, which seem to be making an appearance everywhere on my wild adventures this month.
I also took the walk over to the opposite side of the site, accessed through the car park, which takes you through a short path which had itself become quite wild with grasslands and also past a series of ponds and reedbeds. There was no-one else around and as a clicking noise grew louder and louder as I walked, an owl flew out of the tree straight past me. The wild encounter certainly made up for not getting in the bird hide. Tonight, was a reminder too of how much better I feel when I get outdoors after work – disconnecting myself from screens and tuning into the natural world around me.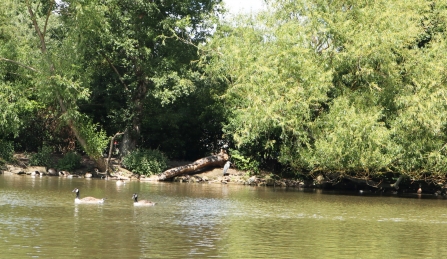 Wednesday – A bird break
Today I decided to take a full dinner hour at work and go for a walk in Leazes Park. Despite most of my time spent walking there and back, it was nice to have a bit of bird therapy and sit by the lake for ten minutes and watch the coots, moorhen, geese and another heron enjoying the sunshine.
I also had a polite word to a lady innocently feeding a whole loaf of bread to a few ducks and she wasn't the only one. Many people have grown up thinking ducks and bread go well together not realising that it's potentially dangerous to them as it fills their bellies up without providing any nutritional value. It's no wonder these ducks, and the ones I encountered on my last picnic last week, are so friendly. Let's just hope they manage to keep afloat with all that soggy bread in their stomachs.
Thursday – A cuppa with nature
I started today with a cup of tea outside in the garden instead of my regular morning routine which is watching the news. An easy change to make and one which made a more positive start to the day. A report has made the headlines this week explaining how people who experience nature at least two hours per week are more likely to experience good health and psychological wellbeing – this hasn't really come as news to me. Breakfast outdoors is an easy way to make time for nature before you get lost in a working day.
Friday - Inglorious
On Friday I spent my wild time re-visiting the facts about the so-called 'Glorious 12th' in August, which marks the start of the grouse shooting season. I did this as on August 12th this year, the band I play in 'The Artisans' are releasing a track which highlights why the date is far from glorious. I wrote the track with our singer and we are now preparing a promotional plan to ensure the song and its message reaches as wide an audience as possible. Today was spent starting to put our plan into action and writing a press release which I'd also like to develop into a blog too for Northumberland Wildlife Trust closer to the date.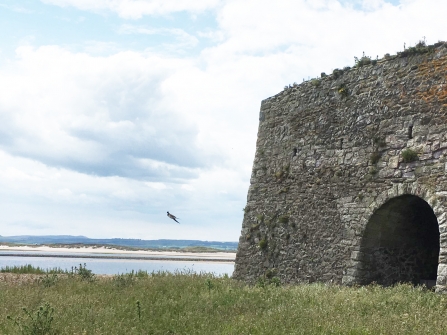 Saturday – After the tide rises
Today I visited one of my favourite north east wild places - Holy Island. There's a real sense of escapism when you cross the causeway onto the island when its low tide and even more so when you don't return before it rises. Today was just a day visit though and I had never been before when it was so busy. Fortunately for the wildlife, and myself who prefers being alone with it, most people don't venture round the whole island and instead just flood to the historical attractions – Lindisfarne Priory and Castle. If you walk through the 3,500 hectares of dunes, saltmarsh and mudflats of Lindisfarne National Nature Reserve you get to enjoy what I think is its real glory - the fantastic views, habitats, birds and plant life. The reserve is known internationally for being important for migrating birds and today, for the first time this year, I saw plenty of swallows. Also, in its small village, it's also well known for its sparrows. Many of the visitors enjoy feeding them when sat outside the lovely Pilgrims Coffee House and today it was no different. I was sad to leave before the tide began to rise and the other the tourists left, as that's when you get to experience the full tranquillity of the island and a glimpse of what it's like to be a local living by the tides.